ASEPCO Diaphragm™ Valves are equipped with high-end actuators.
Press Release Summary: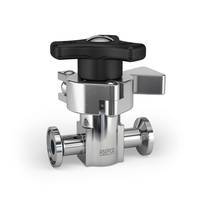 Featuring self-draining design for making quick and easy inspection and diaphragm change, ASEPCO Weirless Radial Diaphragm™ Valves are suitable in sterilization processes. Designed with integral travel stops and radial shoulder seal, units feature 180° flow path and offers drainability in multiple orientations without leakage. Made from solid 316L stainless steel and AL6XN or Hastelloy materials, valves are serialized and laser-etched for full traceability.
---
Original Press Release:
Watson-Marlow Highlights ASEPCO Weirless Radial Diaphragm™ Valves Ideal for Bioprocessing Applications
Contamination-free technology provides complete isolation of process fluids
Watson-Marlow Fluid Technology Group (WMFTG) announces ASEPCO Weirless Radial diaphragm™ valves, contamination-free technology that eliminates dead legs and cross-contamination. With integral travel stops and a patented radial shoulder seal, the ASEPCO in-line valves offer complete isolation of process fluids.
Weirless Radial diaphragm valves offers the installation flexibility necessary to enable the most compact skid possible, thereby optimizing processing for efficient sterilization in place (SIP) processes. Bioprocessors can optimize their bottom line by achieving quicker throughput, since smaller and more compact systems require less time to get up to temperature and achieve sterilization.
The ASEPCO Weirless valves feature a clean, self-draining design with an easy-to use clamp assembly to make inspection and diaphragm change quick and easy. The valves are easy to seal and inspect and never need retightening or adjustment. No tools are required for maintenance. Unlike typical weir-style diaphragm valves that require a variety of hardware, including nuts, bolts, and studs, the clamp design is far simpler to assemble, reducing change time from as much as 20 minutes down to a minute. This reduces maintenance costs by up to 80 percent.
ASEPCO Weirless Radial diaphragm valves offer a number of advantages over ordinary weir-style diaphragm valves, which can introduce product entrapment and leakage and result in higher maintenance requirements. They are contamination-free and feature a 180° flow path, with superior drainability in multiple orientations without leakage. The valves feature high-end actuators with numerous options, including a control interface that enables users to use the weirless valve to control flow in process lines.
Machined from solid 316L stainless steel (other materials are available, such as, AL6XN or Hastelloy) each valve is serialized and laser-etched for full traceability. The valves meet ASME BPVC, ASME BPE and CE-PED standards.
Watson-Marlow Fluid Technology Group (WMFTG) is the world leader in niche peristaltic pumps and associated fluid path technologies. Founded on nearly 60 years of supplying engineering and process expertise and with over one million pumps installed worldwide, our pumps are tried, tested and proven to deliver.
WMFTG is a wholly owned subsidiary of Spirax-Sarco Engineering plc (LSE: SPX), a global organization employing approximately 4,800 people worldwide. Watson-Marlow Fluid Technology Group comprises ten established brands, each with their own area of expertise, but together offering our customers an unrivalled breadth of solutions for their pumping applications:
Watson-Marlow Pumps: peristaltic tube pumps for biopharm and process industries
Watson-Marlow Tubing: precision tubing for pumping and other purposes, in a range of materials
Bredel: high flow, heavy duty hose pumps
Alitea: unique peristaltic solutions for OEM customers
Flexicon: aseptic filling and capping systems
MasoSine: gentle sinusoidal pumps for food, chemical and cosmetics applications
BioPure: advanced single-use tubing connector systems
ASEPCO: aseptic valves for the biopharmaceutical industry
FlowSmart: high purity sanitary gaskets, silicone transfer tubing and reinforced silicone hoses for the biopharmaceutical industry
Aflex Hose: specialises in the design and manufacture of PTFE-lined flexible hoses
Watson-Marlow Fluid Technology Group is an international operation based in Falmouth, Cornwall, UK. Watson-Marlow Fluid |Technology Group has offices in Argentina, Australia, Austria, Belgium, Brazil, Chile, China, Canada, Denmark, France, Germany, Ireland, India, Indonesia, Italy, Japan, South Korea, Malaysia, Mexico, the Netherlands, New Zealand, Poland, Russia, Sharjah UAE, Singapore, South Africa, Sweden, Switzerland, Taiwan, Thailand, USA and Vietnam.
More from Computer Hardware & Peripherals