Automated Storage/Retrieval Systems (AS/RS)
AS/RS increases speed of die handling.
Press Release Summary: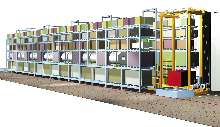 Automatic Storage and Retrieval System utilizes heavily braided wire rope, which is capable of lifting large dies weighing up to 80,000 lb or more, twice as fast as ball-screw driven elevating carts. Coil stock and/or stacks of blanks can be stored and retrieved. Automatic die-weighing mechanisms ensure dies do not exceed capacity of slot or overall system. Storing dies in accessible multi-tier racks and creating an uninterrupted path reduces die damage and maintenance.
---
Original Press Release:

Second-Generation AS/RS for Stamping Operations Adds Speed, Cuts Costs


(FENTON, MI) - Atlas Technologies, Inc., a leading supplier of pressroom automation equipment and stamping systems, has introduced its second generation of AS/RS (Automatic Storage and Retrieval Systems) that increase the speed and efficiency of handling dies and other materials used in metalforming operations.

The elevating cart, a key component of the system, now features the use of heavily braided wire rope that is capable of lifting large dies, weighing up to 80,000 lbs or more, twice as fast as ball-screw driven elevating carts. Coil stock and/or stacks of blanks can also be stored and retrieved. Associated noise levels are cut in half, and lubrication requirements are reduced, improving the operating environment. Traditionally, elevating carts for stamping dies require the use of four custom ballscrews (up to 40 feet long each), one for each corner, to precisely lift the carriage and position it properly to insert the die into a storage slot in multi-tier rack. By replacing the ballscrews with the wire rope technology, energy requirements and potential maintenance can be reduced, since a single 60HP electric motor is used as opposed to four hydraulic motors, one for each ballscrew.

Atlas AS/RS systems also feature automatic die-weighing mechanisms that ensure dies don't exceed the capacity of their slot or the overall system.

Stamping press uptime of 80% or better is achievable with an integrated die handling system, even in contract stamping operations where batch runs are the norm. High-volume automotive stampers, appliance manufacturers, and other stamping operations benefit as well. By having an integrated system for die storage and retrieval, die changes become a matter of minutes instead of hours. Storing dies in easily accessible multi-tier racks and creating an uninterrupted path for dies to flow to and from presses reduces die damage and maintenance, and minimizes changeover downtime. The systems also help stampers to maximize part quality and die performance since dies can be quickly pulled and checked without upsetting production schedules.

Atlas Technologies is an established leader in die change automation, providing integrated systems, individual components, and engineering expertise. Atlas also designs and builds blank destacking/stacking systems and pin pallets, end-of-line part handling automation, transfer press automation and finger tooling, and integrated fabrication and assembly systems. For more information, contact James Petiprin (petipriJ@atlastechnologies.com), Atlas Technologies, Inc., 201 S. Alloy Drive, Fenton, Michigan 48430. Phone: 810-629-6663.
www.atlastechnologies.com


More from Architectural & Civil Engineering Products