Articulating Seal System handles shaft misalignment.
Press Release Summary: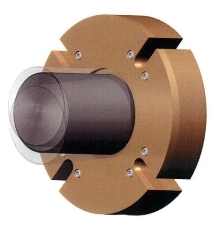 Custom-engineered Articulating Air Mizer(TM)-PS is suited for containment of powders, abrasives, liquids, and toxic vapors in dry powder and bulk process applications. Able to handle shaft misalignment and deflection, product uses solid wall of air that functions as barrier for contamination and works to retain product in equipment. Non-contact design with air purge accepts radial and angular shaft runout up to 14 in. and shaft diameters from ½-36 in.
---
Original Press Release:

Inpro/Seal Expands Sealing System Product Line for Powder and Bulk Applications with Articulating Seal That Handles Shaft Misalignment to Keep Equipment Running Longer


ROCK ISLAND, IL, Feb. 21, 2005 --- Building on the ongoing success of their ability to positively seal equipment in dry powder and bulk process applications, Inpro/Seal has introduced their Articulating Air Mizer(TM)-, PS sealing system.

Two Sealing Solutions
With this system Inpro/Seal now offers two sealing solutions for the containment of powders, abrasives, liquids and toxic vapors: the Air Mizer(TM)-PS and the Articulating Air Mizer(TM)- PS, a sealing system with upgraded design features.

Both were developed for use on equipment where dry particulates, powders and bulk solids are handled, processed, packaged and stored. Examples include: screw conveyors, gate valves, feeders, mixers, blenders, gates, clinker grinders, bucket elevators, diverters, scales, bagging machines, dust collectors, discharges, classifiers, screens, extruders, separators, shredders, sifters, metal detectors, pulverizers, crushers, coolers, augers, transfer pumps, fillers and similar dry powder and bulk processing machinery.

Result Of Continuous R & D
The result of direct customer request, input and feedback, continuous R&D and extensive field testing and trials, the Articulated Air Mizer-PS has all the features of the original Air Mizer(TM)-PS and adds the ability to handle extreme shaft misalignment and deflection, common in these kinds of applications to provide a seal that traditional methods simply cannot attain.

Ineffective Sealing Methods
Before the advent of the Articulated Air Mizer-PS end users had to deal with sealing methods that did not last because of shaft runout. Mechanical seals work on a contact basis and are subject to excess wear on the seal faces as they make contact. Seal faces have been known to wear out in as little as 3,000 hours.

Fibrous packings are also subject to wear and short lifetimes from runout where packing in the stuffing boxes compress and create a leak path. Packing can soften to the point where powder can leak to the outside, causing environmental problems. Tightening may renew the seal, but only for a relatively short period of time.

Successful Product At Heart Of Air Miser Seal
To counter, Inpro/Seal took their bearing isolator, a compound labyrinth bearing protection device, that they invented (and patented) in 1977 and modified it for use with dry particulates, powders and bulk solids.

A major innovation includes a unique design feature that uses a solid wall of air that functions as a barrier for contamination and works to retain product where it should be - in the equipment. The highest levels of performance are assured by virtue of an inherent non-contact design feature that avoids direct egress of the particulate material.

Latest In Non-Contact Technology
According to David C. Orlowski, President of Inpro/Seal and the holder of some 40 related patents, "Realizing the importance of what production continuity and what lost product can mean to the bottom line, several years ago, we introduced our Air Mizer Sealing System. This system has proven to help end users boost equipment reliability, reduce costs, extend sealing efficiencies and increase bottom line results, without equipment modification."

Orlowski continued, "As time went on, more and more end users came to us with the same need. Beside the other problems they were having with contact seals, shaft deflection, run-out and misalignment was also causing seal faces to wear out and equipment to break down on a too rapid basis. Angular misalignment and mounting conditions, in particular, were hard to deal with."

Orlowski concluded, "To solve this problem, working closely with our customers, our R & D people developed the Articulating Air Mizer(TM)-PS, a sealing system that uses the latest in non-contacting technology with an air purge that accepts radial and angular shaft runout up to 14". Shaft diameters from ½ in - 36 in. No other sealing mechanism can do this."

No Equipment Modification, Easy To Install
The Articulating Air Mizer(TM)-PS, sealing system is custom-engineered to suit individual applications. It is easy to install as it conforms to existing clearances, boltholes and patterns for bearings and/or stuffing boxes. Split designs allow for installation directly on the shaft without removal.

More Benefits
Additional benefits include: lower maintenance costs, reduction in lost product, unscheduled downtime virtually eliminated and meet regulatory needs. As with all other Inpro/Seal products same day shipping is available.

About Inpro/Seal
Inpro/Seal Company is the originator and the world's number one manufacturer of bearing isolators, used to protect motor and pump bearings, machine tool spindles, turbines, fans, gear boxes, paper machine rolls and many other types of rotating equipment. Additional applications include the sealing, handling, processing, packing and storage of dry particulates, powders and bulk solids.

Over one and one half million of Inpro/Seal's original bearing isolator designs are in operation in process plants worldwide, where end users continue to report significantly reduced operating costs with increased productivity and reliability. Documented cases show that a plant can more than double the mean-time-between failure (MTBF) and reduce maintenance costs by at least half, with users reporting an extremely high ROI.

As the recognized global leader in bearing isolator technology, Inpro products are marketed to the aerospace, automotive, petroleum, refining, nuclear, power generation, metalworking, food processing, grain processing, chemical, water, wastewater treatment, metal working, hydrocarbon processing, HVAC, pulp and paper, mining, mineral, ore processing and general industrial markets.

Spreadsheets
Interactive spreadsheets that calculate ROI, Contact Seal Energy Consumption and other costs are available at www.bearingisolators.com

For more information on the Articulating Air Mizer(TM)-PS sealing system, including a FREE brochure, contact Terri Hageman at: Inpro/Seal Company, P.O. Box 3940, Rock Island, Illinois 61204. Phone numbers are: (800) 447-0524 or (309) 787-4971. Fax number is: (309) 787-6114. Website: www.inpro-seal.com or www.bearingisolators.com

More from Mechanical Components and Assemblies