Articulated Videoscope has camera tip temperature display.
Press Release Summary: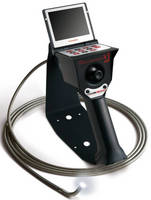 Equipped with 1/6 in. CMOS imaging device, Orion Videoscope produces live image with 525 x 480 resolution on integrated 3.5 in. TFT LCD monitor. Images or video can be captured to microSD memory card or directly to computer HDD via USB connection. Standard 4-way, 90° tip articulation lets operator rotate 360° circle or navigate corners with 90° field of view. Available in 1.5, 3.0, or 5.0 m lengths, tip is protected by stainless steel braiding and illuminated by 5 white LED lights.
---
Original Press Release:

Articulated Videoscope Pegasus



Stainless steel braided insertion probe
3.5" TFT LCD monitor
2X Digital zoom
Camera tip temperature display
Direct USB file transferOrion Videoscope

Industrial applications, law enforcement inspections, and more are made easy with Medit's Joystick-type Videoscope Systems.

The live image is displayed on an integrated TFT LCD monitor with images or video captured to a microSD memory card, or directly to your hard drive via a USB cable.

This scope's standard 4-way, 90 degree tip articulation allows the operator to easily rotate a full 360-degree circle or navigate corners with a wide 90 degree field of view. Available in either 1.5 meter, 3.0 or 5.0 meter lengths, the tip is protected by a stainless steel braiding and illuminated by four white LED lights.

Some Technical Specifications of the Videoscope:


Depth: 15mm~infinity


Imaging device: 1/6 inch CMOS


Resolution: 525 (H) x 480 (V)


Length: 1.5m(5'), 3.0m (9.8') or 5.0m


Diameter: 6.9 mm


Exterior: Stainless Steel Braiding


Recording capacity (on 1GB card): 500 still pictures, approx. 60 minutes (Nomal Mode) / approx. 9 hours (Time-lapse Mode) of video


Image format: JPEG, 640 x 480 pixels


Video format: MPEG (AVI file extension), 640 x 480 pixels


Power: 4 x AA battery for portable use, or AC power adapter


Operating time: Approx. 1.5 hours nonstop (on battery power)


Operating Temperature: -10 ~ +40 C


Waterproof: Insertion probe

Related