Articulated Truck offers self-cleaning ejector.
Press Release Summary: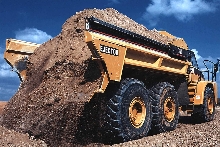 Model 740 Ejector Articulated Truck features mechanism that allows material to be spread and dumped on-the-go, without raising body. It is rated at 42 tons and produces net power of 415 hp. Reinforced ejector body is made from high-yield, heat-treated steel. Truck is powered by Cat 3406E ATAAC turbocharged engine with electronic unit injection fuel system and 7-speed electronically controlled transmission. Top travel speed is 34.2 mph.
---
Original Press Release:
Caterpillar Introduces the 740 Ejector Articulated Truck To Improve Productivity, Lower Cost Per Ton, Increase Versatility

The new Caterpillar® 740 Ejector Articulated Truck features a self-cleaning ejector mechanism that allows material to be spread and dumped on-the-go, without raising the body. Because its body is not raised, the Ejector truck can work efficiently on sites where overhead obstacles or stability issues limit the use of conventional dump trucks.

Rated at 42 tons (38 metric tonnes), the 740 Ejector produces net power of 415 hp (309 kW). It incorporates all the features of the 740 Articulated Truck, including a new electronically controlled engine and transmission, plus a new suspension system, hitch design, rear-mounted cooling system and center-mounted cab.

The 740 Ejector and 740 Articulated Truck are sold as separate product lines, and the bodies are not interchangeable. Both models offer excellent productivity in rough terrain, making them valuable tools for general construction, road building, sand and gravel hauling, land restoration, mine reclamation and landfill operations.

Innovative concept, durable design

The load ejection concept delivers many benefits. Material can be spread while the truck is moving to cut cycle time, decrease power train loads and reduce the amount of support equipment needed for spreading and dozing. The ejector also prevents material from adhering to the inside of the truck body after the dump, so payload can be maximized, improving productivity, reducing fuel consumption and lowering cost per ton. Ejecting a load without raising the body increases stability, so the truck can work on inclines, side slopes and in very soft underfoot. The truck also excels in tunneling and underground applications and on sites where overhead obstacles such as conveyors, power lines or bridges interfere with dumping.

The reinforced ejector body is made from high-yield, heat-treated steel. Its top rails incorporate the same steel used on the Cat® 769D Off-Highway Truck. The ejector mechanism includes a high-strength blade and technology similar to that proven on Cat Wheel Tractor Scrapers, plus a four-stage, double-acting cylinder, specifically designed for horizontal mounting, which is centrally supported and nitrite-hardened for long service life.

700 Family improvements

All improvements made to the 700 Family of articulated trucks have been included on the 740 Ejector. The truck is powered by a Cat 3406E ATAAC (air-to-air aftercooled) turbocharged engine with electronic unit injection fuel system. The engine offers superior acceleration and lugging forces on steep grades and in tough underfoot conditions, as well as excellent fuel efficiency and reduced emissions. It works in partnership with a seven-speed electronically controlled transmission, based on the proven design of the Caterpillar 769 Off-Highway Truck. The integrated system coordinates engine speed, torque converter lock-up and transmission clutch engagements to produce exceptionally smooth shifting and long drive train life.

Other key enhancements include a new rear-mounted radiator that improves forward visibility and service access; a new front suspension system that provides a smoother ride and longer life; a new box-section front frame, designed to decrease stress in the hitch area and optimize suspension geometry; and a new more rugged hitch, a two-piece articulating, oscillating design that ensures all-wheel ground contact in rough terrain.

Operator comfort and productivity
Like other members of the 700 Family, the 740 Ejector features a spacious, quiet, work environment with exceptional all-around viewing area. The new center-mounted cab delivers a comfortable ride, reducing operator fatigue and enhancing productivity throughout the shift. A new fully adjustable Cat Comfort air suspension seat, easy-to-read instruments, ergonomically placed controls and an Electronic Monitoring System (EMSIII) further enhance comfort and productivity. A full-size training seat is also included.

Reduced maintenance, quicker service

To reduce downtime, increase availability and lower cost per ton, the 740 Ejector offers extended engine and hydraulic oil change intervals, extended life coolant and adjustment-free wheel bearings. Lubrication points are grouped for convenience, as are service points under the hood. The hood is raised and lowered electrically, with a manual override provided. Test points are behind the cab and accessible from the ground. The engine can be removed and installed in one piece, reducing service time. The new suspension system eliminates the need to lower the suspension during transport, saving time and effort.

The combination of 700 Family improvements and the innovative load-ejection design make the 740 Ejector well suited for customers who value high production at a lower cost per ton in a variety of tough applications. For additional information, customers should contract their local Cat dealer or visit Cat website at www.cat.com.




Basic Specifications for 740 Ejector



Engine                      Cat 3406E ATAAC EUI

Net power                   415 hp (309 kW)

Transmission                7F/lR, electronic autoshift

Rated payload               42 tons (38 metric tonnes)

Body capacity               30.2 yd3 (23.1 mi)

(heaped SAE 2:1)

Operating weight (empty)    77,770 lb (35 270 kg)

Top travel speed            34.2 mph (55.1 km/h)


More from Test & Measurement