Articulated Loaders feature Tier IV-certified engines.
Press Release Summary: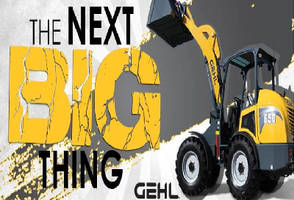 Weighing 4.5 metric tons, Gehl 650 is equipped with 64.4 hp Yanmar engine that uses diesel particulate filter after-treating system, while Gehl 750 features 74.3 hp Deutz engine that uses diesel oxidation catalyst after treatment system. Heavy-duty, oscillating articulation joint offers 45° turning angles to left and right and 10° of oscillation. With multi-function joystick, operator can control lift arm, bucket, float, travel direction, differential lock, and auxiliary hydraulic functions.
---
Original Press Release:

Gehl Introduces All-New 650 And 750 Articulated Loaders for North America



Two New Models Bring Extra Capacity to Gehl's Articulated Loader Line-up

• Gehl 650 and 750 Articulated Loaders offer some of the highest breakout forces in their respective classes

• Articulation angles up to 45 degrees bring ideal maneuverability to the job



TECHNICAL SPECIFICATIONS


| | | |
| --- | --- | --- |
|   | 650 | 750 |
| Operator's Station | 4-Post/Cab | 4-Post/Cab |
| Weight – Canopy/Cab (kg) | 9,080/9,500 lbs. (4119/4309) | 10,540/10,920 lbs. (4781/4953) |
| Straight Tipping Load with Bucket (kg) | 6,409/6,743 lbs. (2907/3059) | 7,446/7,907 lbs. (3378/3587) |
| Power (kW) @ 2300 rpm | 64.4 hp (48) | 74.3 hp (55) |
| Bucket Hinge Pin Height (mm) | 130.5½ (3315) | 136.8½ (3474) |
| Height to Top of Cab (mm) | 97.1½ (2467) | 97.5½ (2476) |

 

FEATURES

Answering the market demand for larger wheel loaders, Gehl developed the 650 and 750 Articulated Loaders for the North American market. The Gehl 650 and 750 Articulated Loaders represent an expansion into the 60-80 horsepower size class, with larger engines and higher horsepower than the competition. Both models have Tier IV-certified engine emissions technology, with a Yanmar 64.4 hp (48 kW) engine on the 650 and a Deutz 74.3 hp (55 kW) engine powering the 750. The Yanmar engine uses a diesel particulate filter after-treating system, while the Deutz uses a diesel oxidation catalyst after treatment system, which allows users to choose their preferred emissions system.



The 650 and 750 are additions to the Gehl family of articulated loaders, weighing in at 4-5 metric tons. They are the largest wheel loaders in the Gehl product offering and include standard convenience features such as a digital instrumentation display, Power-A-Tach™ Attachment Mounting System and a multi-function joystick. Digging and scraping performance is maximized through some of the highest breakout forces in their respective classes and front and rear locking differentials.



A heavy-duty, oscillating articulation joint offers 45-degree turning angles to the left and right and 10 degrees of oscillation in both directions for optimal traction and maneuverability. The bucket and tires follow a constant turning radius, so the rear tires of the loader follow the path of the front tires. Narrow machine widths allow access to tight, confined spaces that most skid steer loaders with comparable operating capacities cannot access. The "Z" bar-type linkage allows for mechanical self-leveling action in both the up and down directions, excellent bucket dump angles at the mid- and top-ranges of the lift path, mechanical return to dig, as well as outstanding forward reach.



Proportional auxiliary hydraulics are standard equipment and are utilized with a roller switch on the joystick. Detent and pressure relief are included to optimize attachment hook-up and performance.



Two easily accessible auxiliary hydraulic lines with flat-face couplers power a variety of tools and make attachment changes easy. Additionally, the 650 and 750 are available with an industryleading three auxiliary circuit option to the front and rear, including high-flow.



An open canopy ROPS is standard and a complete cab enclosure option is available, providing enhanced comfort and safety for all-day-long operations. Excellent 360-degree visibility is achieved by positioning the operator above the load for safe operation and excellent view of the attachment.



A multi-function joystick controls the lift arm, bucket, float, travel direction, differential lock and auxiliary hydraulic functions. An inching pedal allows operators to vary ground speed while maintaining a fixed engine speed to optimally run attachments while enabling precise machine speed control.



Optional features include, but are not limited to; a Bluetooth "hands free" capable radio, air suspension seat, LED work lights, rotating beacon, high-flow auxiliary hydraulics, rear hydraulic hook-up, rear mount and clevis, HydraglideTM Ride Control, and 3-speed transmission with speeds up 19 mph (30 kph).



APPLICATIONS

The Gehl 650 and 750 Articulated Loaders are positioned in the North American market to meet the needs of agriculture, construction, municipalities, landscaping, recycling, and rental.



INTERVIEW

"As North America's largest manufacturer of compact wheel loaders, Gehl customers benefit from the convenience of a local manufacturer," says Nathan Ryan, Product Manager for Gehl Articulated Loaders. "Gehl offers more auxiliary hydraulics options, cab configurations and transmission options than any competitor in this class. Hydraulically-reversing cooling fan, disk brakes, steel hydraulic tubing and robust heavy duty fenders are just a few of standard features we include to withstand the harsh operating environments that our customers are in every day."



"Beyond the mere size increase, operators will notice many ergonomic enhancements," states Ryan. We've completely redesigned this cab to allow for improved visibility, low effort pilot controls, a pedal-free flat floor and additional steering and seat adjustments. Taking advantage of the additional horsepower to add new features like Hi-Flow and High-Speed, while staying true to our customers favorite features from our smaller wheel loaders, like lift and tilt float functions, we are truly proud to introduce the Gehl 650 and 750 as the future generation of Gehl Articulating Loaders."



Additional product information is available at www.gehl.com

Corporate information is available at: www.manitou-group.com

Press information:

marketing.americas@manitou-group.com

Tel.: 262-334-9461



Manitou Group, world-leader in all-terrain material-handling, designs, manufactures, distributes and services equipment for construction, agriculture and the industries. The group product ranges encompass: telehandlers, all-terrain, semi-industrial and industrial masted forklifts, skid steers, track loaders, articulated loaders, access platforms, truck-mounted forklifts, warehousing equipment and attachments.



Through its core brands, Manitou, Gehl, and Mustang, together with its international network of 1.400 independent dealers, the group provides the best solutions delivering highest value for its customers.



Headquartered in France, the group registered in 2013 a revenue of €1.2 billion in 140 countries, and employs 3.300 people all committed to satisfying customers.



More from Controls & Controllers