Array Amplifier uses far field noise suppression technology.
Press Release Summary: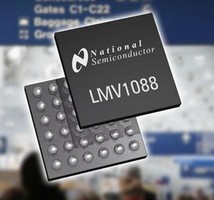 Eliminating output frequency distortions and other audio artifacts, PowerWise LMV1088 dual-input microphone array amplifier delivers natural-sounding voice quality in mobile phones, 2-way radios, and powered headsets. Offered in 3.5 x 3.5 mm, 36-bump micro SMDxt package, it draws only 1 mA of supply current, and has power supply rejection ratio of 85 dB at 1 kHz with typical signal-to-noise ratio of 60 dB and less than 1% total harmonic distortion plus noise.
---
Original Press Release:

National Semiconductor Introduces Breakthrough Analog Noise-Suppression Technology at One-Tenth the Power of DSP Solutions



New PowerWise Microphone Array Amplifier Reduces Background Noise and Delivers More Natural-Sounding Voice Quality

SANTA CLARA, Calif. - February 28, 2008 - National Semiconductor Corp. (NYSE:NSM) today announced the first in a line of audio products incorporating far-field noise suppression technology. This unique technology delivers more natural-sounding voice quality by eliminating the output frequency distortions and other audio artifacts common with digital signal processor (DSP) or microprocessor software-based systems that use sub-band frequency processing algorithms to implement noise suppression.

The PowerWise LMV1088 dual-input microphone array amplifier, which uses National's far-field noise suppression technology, reduces background noise and improves voice communication clarity in mobile phones, two-way radios and powered headsets. Part of National's PowerWise® energy-efficient family, the device consumes one-tenth the power (1 mA) of comparable DSP or microprocessor software-based systems, setting a new standard for low power consumption.

The LMV1088 dramatically improves the talker's voice-signal-to-background-noise ratio in the communications system while retaining natural speech quality. The improvement directly translates to clearer voice signals on the receiving end of the communications link and an increase in customer satisfaction. Additionally, the voice-signal-to-background-noise improvement allows increased accuracy by voice recognition systems since the background noise is not a significant part of the signal to discriminate against.

The LMV1088's continuous-time analog processing provides instantaneous response to voice and background noise signals, unlike DSPs and processors which require extra computation time to adjust to voice background noise levels. Additionally, the LMV1088's ease of use allows the rapid integration of noise suppression performance in phone handsets or powered headsets, without the added development time required to write and test voice-processing programming code for a DSP or microprocessor.

To listen to a demonstration of National's LMV1088 far-field noise suppression microphone amplifier, visit www.national.com/noisereduction.

Key Features -- LMV1088 Far-Field Noise Suppression Microphone Array Amplifier The LMV1088 is a dual-input microphone array amplifier offered in a miniature 3.5 mm by 3.5 mm, 36-bump micro SMDxt package. The amplifier draws only 1 mA of supply current. It has a power supply rejection ratio (PSRR) of 85 dB at 1 KHz, with a typical signal-to-noise ratio (SNR) of 60 dB and less than 1 percent total harmonic distortion plus noise (A-weighted THD+N). The LMV1088 is designed for use with two microphones in an end-fire array configuration. The microphones can be spaced in a line 1.5 cm to 2.5 cm apart from each other, or the equivalent acoustic path distance. The optimal distance for the person speaking into the handset or headset microphone is 2 cm to 10 cm.

The amplifier's automatic calibration circuitry compensates for the microphones gain and frequency response variations, eliminating the need to use expensive matched microphone sets, while allowing flexible placement of the microphones in the final product. The calibration data is stored in the LMV1088's internal EEPROM memory. The calibration sequence chooses the optimized coefficients for the two microphones' spacing and acoustical environment. The LMV1088 features four I2C compatible, selectable operating modes: default noise reduction, microphone 1 pass through, microphone 2 pass through or microphone 1 & 2 sum.

The LMV1088 is manufactured at National's wafer fabrication plant in South Portland, Maine, and tested and assembled at the company's facility in Melaka, Malaysia.

Pricing and Availability
Available now, the LMV1088 is priced at $9.95 each in 1,000-unit quantities.

For more information or to order samples and a demonstration kit, visit www.national.com/pf/LM/LMV1088.html.

To learn about high-performance audio amplifiers for portable applications, visit National's library of online seminars at national.com/onlineseminar/#audio.

About National's Audio Portfolio
National Semiconductor has been a leading provider of audio solutions for more than 30 years and offers a wide range of products in its Boomer®, Overture® and high-performance audio lines. National works with every major handset maker in the world and is the leading provider of analog audio solutions for the cell phone market. The company's line of Boomer audio amplifiers and subsystems enhance and enrich the entire range of sound - from voice, ring sounds and music - that can be amplified in mobile phones and other portable equipment. National manufactures Class AB and Class D speaker amplifiers, headphone amplifiers and audio subsystems for many applications ranging from portable devices to high-power, high-fidelity audio systems. The company offers its higher-power Overture amplifiers for mid-performance consumer applications, and National's new high-performance series brings dramatically improved sound quality to high-fidelity consumer and professional audio equipment. For more information on National's audio products, visit www.national.com/audio.

About National Semiconductor
National Semiconductor, the industry's premier analog company, creates high-value analog devices and subsystems. National's leading-edge products include power management circuits, display drivers, audio and operational amplifiers, interface products and data conversion solutions. National's key analog markets include wireless handsets, displays, communications infrastructure, medical, automotive, industrial, and test and measurement applications. Headquartered in Santa Clara, Calif., National reported sales of $1.93 billion for fiscal 2007, which ended May 27, 2007. Additional company and product information is available at www.national.com.

Company Name: National Semiconductor
Address 1: 3689 Kifer Road
Address 2: M/S G1-124
City: Santa Clara
State: CA
Zip: 95051
Country: United States
Phone: 408-721-6929

URL: www.national.com

Contact Name: Mark Alden
Title: Public Relations Manager
E-mail: mark.alden@nsc.com

More from Electrical Equipment & Systems