Armstrong Receives ASPE Industry Innovation Award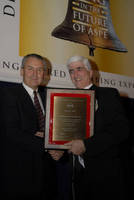 Three Rivers, Mich. - Armstrong International has received the coveted Industry Innovation Award from the American Society of Plumbing Engineers (ASPE) for The Brain® - Model DRV80 digital mixing valve. The award is given to companies that have developed technology solutions that have revolutionized the plumbing industry. Armstrong received the award during ASPE's national convention held in Philadelphia in November.

"We've changed the way people think about re-circulated mixed water temperature control," said Paul Knight, director of global hot water markets for the Armstrong. "Digital technology refines water temperature control across the entire hot water system to a level previously deemed unattainable". According to Knight, the ability to collect data and monitor system performance via an integral building management system or web interface validates the technology. "There is no doubt that The Brain overcomes zero demand temperature creep issues, manages temperature fluctuations and contributes to enhanced system performance and user safety," Knight said.

The Brain(TM) Model DRV80 has thousands of successful installations and is the basis for design at some of the world's largest and most prestigious hotel chains, retirement communities and consulting plumbing engineering firms.

Armstrong introduced the first electronic Brain in 2005 and has since expanded its digital technology platform. Most recently, Armstrong displayed an ASSE 1070 compliant digital hands free six-outlet valve for lavatories and a 1016 compliant version for showers. Certification testing is in process.

About Armstrong International
Armstrong International provides intelligent system solutions that improve utility performance, lower energy consumption, and reduce environmental emissions, while providing an enjoyable experience. Founded in 1900, Armstrong International is a family-owned company headquartered in the United States, with manufacturing, sales and seminar centers located throughout North America, Europe, Asia and the subcontinent of India. More information can be found at armstronginternational.com.

More from Computer Hardware & Peripherals