ArmorPad™ Equipment Mounting Pad features a lightweight and dense foam core bottom.
Press Release Summary: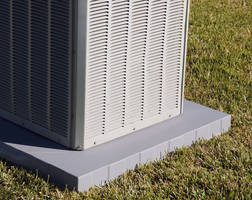 ArmorPad™ Equipment Mounting Pad is available in 61, 76, 81, 91, 101-cm² x 7.6 cm high. Unit is made from dense foam core base and is covered in shell of durable polymer. This pad is suitable for residential and commercial air conditioning condensers. Unit's polymer surface is resistant to UV degradation, coil cleaning chemicals, landscaping chemicals and weather. Product can hold drilled-in hurricane clip anchors in high wind zones.
---
Original Press Release:
RectorSeal® Introduces ArmorPad™, the HVAC Industry's Lightest, Most Durable Equipment Pad
ArmorPad's light weight requires only one installer to transport; durable polymer shell resists UV, cracking, crumbling and spalling of its cementitious competition.
RectorSeal®, Houston, a leading manufacturer of quality HVAC/R tools and accessories, introduces the ArmorPad™, which might be the HVAC industry's lightest, strongest and most durable equipment mounting pad product line for residential and light commercial air conditioning condensers.
The ArmorPad is constructed of a dense foam core base enveloped in a shell of durable polymer on five sides that aesthetically simulates the texture and color of gray concrete. The entire product line of 24, 30, 32, 36, and 40-inch-square (61, 76, 81, 91, 101-cm²) x 3-inch-high (7.6-cm) models saves jobsite costs, because only one person is needed to transport and install it. For example, a 36-inch-square x 3-inch-high ArmorPad weighs only 8-pounds (3.6-kg) versus competing foam core pads with cementitious shells weighing 35-pounds (15.8-kg), or solid concrete pads weighing more than 300-pounds (136-kg).
ArmorPads also surpass the competition in durability tests, which prove the weight of a truck driving over it can't crush it, drilling into it can't crumble or crack the polymer shell, landscaping implements can't spall the surface, and equipment weight of even the largest of residential condensers can't indent or depress it.
The ArmorPad polymer shell is not sprayed on, but rather molded into a one-piece, strong and durable extrusion that's compliant with ASTM D-2299 standard "Recommended Practice for Determining Relative Stain Resistance of Plastics." The polymer surface perpetuates a brand new appearance, because of its built-in resistance to UV degradation, coil cleaning chemicals, landscaping chemicals, weather and canine urine.
The ArmorPads also boast the industry's most dense foam core, which minimizes permanent compression damage and holds anchors securely. The foam core bottom also features a unique foil-backing that resists moisture and an embedded chemical repellent that deters burrowing animals and insects.
Other ArmorPad features include:
Design and performance-tested in the field with contractor focus groups;
Designed for 90-percent of the industry's condenser sizes of up to five-ton systems. Additional size introductions are planned in the future;
Ideal for retrofits where larger, more efficient condenser replacements require a larger or new equipment mounting pad;
Can be secured onto and cantilevered out over smaller unsightly, but structurally-sound existing pads during retrofits;
Easily accepts and securely holds drilled-in hurricane clip anchors in high wind zones;
Available through most traditional wholesale HVAC/R distributors.
For additional information on the ArmorPad product line or other HVAC/R products from RectorSeal, visit www.rectorseal.com email: marketing@rectorseal.com; or call 800-231-3345.
About RectorSeal: The RectorSeal LLC is a leading manufacturer of chemical and specialty products designed for professional tradesmen. Steady growth over the years has been maintained through a commitment to providing high quality products and services. With a diversified business strategy, RectorSeal aggressively pursues new and unique technologies to serve the plumbing, heating, air conditioning, electrical and construction industries. RectorSeal is devoted to providing innovative quality products supported by strong customer and technical service. For more information, visit www.rectorseal.com, email: marketing@rectorseal.com or call (800) 231-3345.
More from Communication Systems & Equipment