ArmorBlock IO-Link Master stores up to 40 timestamps of sensor events on each channel.
Press Release Summary: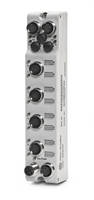 Offering operators detailed sensor diagnostics for preventive maintenance, IP67-rated IO-Link master boasts of event and process timestamping capabilities, which along with IO-Link-enabled sensors minimizes issue-resolution time by smart targeting of specific problem areas such as monitoring temperature, in place of a complete overhaul. Customized for harsh conditions, the device includes connectivity for up to eight IO-Link sensors.
---
Original Press Release:

New IO-Link Master Brings Smart Diagnostics to Harsh Industrial Environments






Sensor data gathered with ArmorBlock IO-Link master improves decision-making.


Manufacturers and industrial operators can now access more detailed sensor diagnostics in harsh operating environments using the IP67-rated, Allen-Bradley ArmorBlock IO-Link master from Rockwell Automation. The device builds on the company's IO-Link portfolio with event and process timestamping capabilities for on-machine applications.

 

The new IO-Link master stores up to 40 timestamps of sensor events on each channel. This event history can help users track changes and more easily diagnose issues. Input timestamps of all sensor data also can be sent to the controller upon a change of state. These and other diagnostics available through the device can reduce issue-resolution time by as much as 90 percent, improve preventive maintenance and optimize overall system performance.

 

"The ArmorBlock IO-Link master with IO-Link-enabled sensors can aid end users in creating smarter operations without a complete overhaul," said Kevin Gagliostro, product manager, Rockwell Automation. "They can deploy the technology to monitor temperature, and margin-indication or proximity parameters in critical processes. They can also target problem areas where better diagnostics are needed to remedy issues."

 

While the new ArmorBlock IO-Link master is ruggedized for use in harsh applications, the Rockwell Automation portfolio also includes an in-cabinet solution for light applications. The on-machine option requires only a single cable from the cabinet, reducing the number and length of cable runs and potential failure points.

 

The ArmorBlock IO-Link master includes connectivity for up to eight IO-Link sensors. The master and sensors share an IP address, helping end users reduce the cost and time to commission equipment.

 

News Release Assets

Image available upon request or here at box.com.

 

About Rockwell Automation

Rockwell Automation Inc. (NYSE: ROK), the world's largest company dedicated to industrial automation and information, makes its customers more productive and the world more sustainable. Headquartered in Milwaukee, Wis., Rockwell Automation employs approximately 22,000 people serving customers in more than 80 countries.

 

Media Contacts

Todd Bissell

Rockwell Automation

978.446.3284

tmbissel@ra.rockwell.com

 

Dana Bossen

PadillaCRT

612.455.1751

dana.bossen@padillacrt.com

 

Allen-Bradley, ArmorBlock and LISTEN. THINK. SOLVE. are trademarks of Rockwell Automation Inc.

 

Listen Think Solve



More from Mechanical Components and Assemblies