Aries Electronics' New Test and Burn-In and RF Sockets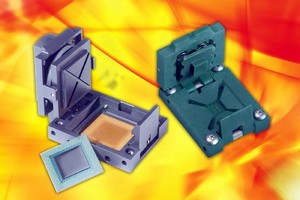 Bristol, Pa. September 2008 - Aries Electronics, an international manufacturer of standard, programmed and custom interconnection products, has recently updated its CSP/BGA test and burn-in and RF sockets, including 13 mm squared, 27 mm squared, 40 mm squared and 55 mm squared models, to accommodate devices with pitches down to 0.3 mm. With this new pitch capability, Aries' sockets are suitable for use with an even greater range of CSP, MicroBGA, DSP, LGA, SRAM, DRAM and Flash devices. In addition, Aries' standard molded socket format enables each socket to accommodate any device package size indicated by using machined or custom molded pressure pads or interposers.

Aries' new RF test sockets can be easily mounted to and removed from the printed circuit board (PCB), and the CSP/BGA test and burn-in sockets can be conveniently mounted to and removed from the burn-in-board (BIB). The ease of mount and removal is made possible by the sockets' solderless pressure mount compression spring probes, which can be accurately located by two molded plastic alignment pins and mounted with four stainless steel screws.

Aries' new sockets offer gold over nickel plated compression spring probes, which enable the spring probes to leave very small witness marks on the bottom surface of the device solder balls. The pressure pad compression spring also provides proper force against the device, allowing for height variations in device thickness.

Also included with the CSP/BGA test and burn-in version is a four-point spring probe crown to insure "scrub" on solder ball oxides. The RF socket includes "scrub" on solder balls with raised tip probes that provide "scrub" on pads. Signal path during test is 0.077" [1.96mm].

The sockets accommodate up to 500,000 cycles and operate at temperatures of -55°C to 150°C (-67°F to 302°F). Both versions are comprised of spring probes with contact forces of 15 g per contact on 0.30 mm to 0.35 mm pitches, 16 g per contact on 0.40 mm to 0.45 mm pitches, 25 g per contact on 0.50 mm pitches or larger. Spring probes are heat-treated beryllium copper alloy plated with 30 µ" min. (0.75 µ) gold per Mil-G-45204 over 30 µ" min. (0.75 µm) nickel per SAE-AMS-QQ-N-290. The sockets' molded components are UL94V-0 Ultem and machined components are UL94V-0 PEEK or Torlon. All hardware is stainless steel.

As with all Aries sockets, the new CSP/BGA test and burn-in and RF socket versions are available in custom materials, platings, sizes and configurations to suit specific customer applications.

Pricing for a 100 lead device socket starts at $150.00. Delivery is 20 working days ARO.

For additional information, contact Aries Electronics Inc., 2609 Bartram Road, Bristol, Pa. 19007-6810; Tel: 215-781-9956; Fax: 215-781-9845; Email: info@arieselec.com; Web: www.arieselec.com, Data sheet #23017-www.arieselec.com/products/23017.pdf.
Europe Email: europe@arieselec.com.

More from Material Handling & Storage