Architectural Inground LED Luminaire illuminates facades.
Press Release Summary: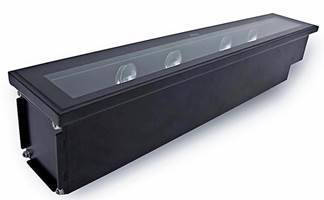 Available in 1, 2, and 3 ft lengths, linear ACCADIA employs facetted spoon reflectors for uniform, glare-free lighting from ground up on vertical surfaces. Optics may be adjusted to 1 of 4 positions in 10° increments from -10° to +20°. Prewired with cable, luminaire is available in 3,000K, 4,000K, or 5,600K color temperatures with CRI >80. Illumination-grade LEDs with aluminum core circuit boards are driven at 350 mA, and integral electronic driver accepts input from 120–277 V at 50/60 Hz.
---
Original Press Release:
HessAmerica Debuts ACCADIA Inground LED Luminaire for Architectural Lighting
New Product Introduction: ACCADIA — linear LED inground luminaire in three sizes for architectural lighting.

Product Design: Hess Licht + Form

Manufacturer: HessAmerica, U.S. subsidiary of Hess GmbH Licht + Form of Germany. 

Product Applications: The ACCADIA high performance LED inground luminaire is suitable for functional and artistic illumination of facades for a wide range of architectural styles found on buildings, towers, and walls, as well as accenting of architectural features such as parapets, columns, or statuary.

Product Description: ACCADIA is a precision lighting instrument designed to illuminate facades and accent architectural features.  The LED inground luminaire features refined architectural styling and an advanced reflector system engineered for uniform lighting from the ground up on vertical surfaces.  The optics may be adjusted to one of four positions for optimal illumination of the surface.  It is available in three sizes with nominal lengths of 1', 2' or 3'.

ACCADIA employs high power, illumination grade LEDs with aluminum core circuit boards driven at 350mA.  The individual diodes work in conjunction with facetted spoon reflectors developed specifically for uniform façade lighting.  The reflectors shield the LEDs from normal viewing angles, ensuring precise illumination without glare.  The optical system is adjustable in ten degree increments from -10° to +20°, but can be factory set to the desired angle on request.  The luminaire is available in warm, neutral, or cool color temperatures.  A symmetric distribution is also available for uplighting.

ACCADIA is manufactured with premium materials and design features to enhance ease of installation and promote long service life.  The luminaire and recessed installation housing are fabricated from stainless steel to ensure longevity under harsh inground conditions.  The tempered glass lens is bonded to the luminaire for a weather tight seal, preventing intrusion of particulate matter typically encountered when installing standard inground luminaires.  ACCADIA is prewired with cable, eliminating the need to open the luminaire during installation.

The ACCADIA series also includes two round models with nominal diameters of 9" and 12".  RGBW models are in development for the entire product family.

Construction and Finishes: The ACCADIA luminaire housing is fabricated from 316 stainless steel.  Removable plate on the end of the housing provides access to the electrical gear and is gasketed for a weather-tight seal.  The luminaire is prewired with power cable eliminating the need to open the fixture during installation.  It is available in nominal lengths of 1', 2', or 3' with a cross section of 4.6" wide x 5.9"d.  Round models in 9" and 12" nominal diameters are also available.  All models include a stainless steel installation housing to accommodate the luminaires.

The light engine consists of individual LEDs mounted on aluminum core printed circuit boards for enhanced thermal management.  The LEDs work in conjunction with precision facetted reflectors to produce uniform illumination free of striations or hotspots.  Optics may be asymmetric for façade lighting or symmetric for uplighting.  Color temperatures are available in 3000K, 4000K, or 5600K with a CRI greater than 80.  RGBW models are in development.

Integral high power factor electronic driver accepts input voltage from 120v through 277v at 50/60Hz.

Contact Information: Literature and specifications for the ACCADIA or other original European-design outdoor architectural lighting products are available by contacting authorized HessAmerica professional independent lighting sales representatives at www.hessamerica.com/About_us/Representative/.  Website: www.hessamerica.com.
More from Thermal & Heating Equipment