Architectural Indirect Lighting fosters energy conservation.
Press Release Summary: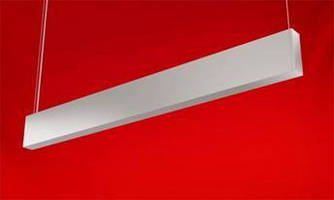 Offered as linear, suspended luminaire with LED or T5 fluorescent source, acanthus1 glare-free ambient/accent uplight measures 2 in. wide x 5 in. high and comes in 7 nominal lengths from 2–12 ft. Mounting options foster positioning capabilities, while internal reflector design and LED spacing minimize dappled appearance. Available color temperatures are 3000°K, 3500°K, or 4000°K, and LED light options are available with 100, 500, and 1,000 lm/ft outputs at 5, 7, and 14 W/ft, respectively.
---
Original Press Release:

aolight Introduces Acanthus1:Architectural Low-Scale Energy Saving Indirect Lighting



New Product Introduction: acanthus1—energy-saving linear indirect, suspended architectural luminaire. (In architecture, acanthus pertains to ornaments carved into stone or wood columns or ceilings, resembling deeply cut leaves of Mediterranean plants.



Design: George Bosson and the a•light In-House Lighting Design and Engineering Team.



Manufacturer: a•light—anAmerillumBrands company, U.S.manufacturer of energy-saving LED and linear fluorescent lighting exclusively.



Product Applications: acanthus1 delivers high-lumen output, nonglare energyconserving ambient/accent uplight utilizing LED or T5 fluorescent. Models are suited for a broad range of commercial, institutional, and upscale residential ambient/accent interiors and wet-location exteriors.



acanthus1 is particularly economical to operate and maintain. It emits white, high-color- rendition light; is built to last; cost-effective short and long term. Applications include schools, colleges; clinics, hospitals, laboratories and physician offices; libraries, museums and galleries; parking garages, covered walkways, porte-cocheres, natatoriums; corridors, offices, reception areas; entertainment, hotels, retail, showrooms and themed venues of all kinds. In short, wherever high-performance coincides with a want for integral, architectural lighting design, energy conservation, and long operating life with negligible maintenance.



Product Description: acanthus1 is characterized, and memorable by its slender, low-scale, architecturally integrated, square-edged rectangular linear lighting design, without unnecessary adornment. Measuring a mere 2-inch wide by 5-inch high, acanthus1 units can be single stainless steel aircraft cable, pendant/stem or partial span mounted. They can be juxtaposed at right angles, abutted to a wall or column, formed into rows or patterns, providing numerous combinations of indirect energy-efficient lighting functions. Nominal lengths are 2-, 3-, 4-, 6-, 8-, 9- and 12-feet per unit, or hairline seamed rows of unlimited length.



Precise lengths may be specified to complement and accent interior/exterior building architecture. Use of LED light-source options in particular, because of their small size, allows great customization flexibility with regard to interior lengths and angles. A precision-formed proprietary internal reflector design and optimal LED spacing, minimizes any "dot-dot-dot" appearance from LEDs. Units set new standards for even, high-efficiency, high-color rendition white-light distribution.



T5 lamping is available, but LED is the ideal option with a choice of outputs allowing maximum lighting design flexibility, whatever the requirement. Color temperatures are available in 3000ºK, 3500ºK or 4000ºK. Only high-performance Nichia LEDs are used. LED light options are available with low, standard and high outputs: Low output equals 100 lumens/ft at 5 watts/ft. Standard output equals 500 lumens/ft. at 7 watts/ft. High output equals 1000 lumens/ft. at 14 watts/ft. acanthus1 LED models' heat sink was designed to ensure optimal performance.



acanthus1 LED models operate on a 12V DC system with 120V to 277V constant voltage. Low temperature performance to -40ºC. A zero to 10V dimming module is available. Units comply with IESNA LM-79 and LM-80 performance standards. LED combination lamp/driver is rated for 50,000+ hours, and has a 5-year factory warranty.



Uplight lamping portion of the luminaire can employ simply an open aperture, or the a•cirrus™ lens option presents a "no lamp image" diffusion, articulated in a frame of light. The WISP™ lens option is a sheer, delicately frosted opal acrylic pattern. An HTLO, or High Transmission Lamp Obfuscating, lens creates the best of both worlds — a high 93% light transmission with no lamp/LED image (looks like crystalline silk). Optional Lex-Efx™ acrylic control film, with a specular screen print, provides another distribution alternative. Wall-grazing models and other options available.



Construction & Finishes: acanthus1 fixture housings are constructed from high quality, 60% recycled aluminum extrusions, with precision-milled billet aluminum ends, and are 100% recyclable. An alightanium™ low environmental impact powder-coated finish is standard; other standard and custom colors may also be specified. acanthus1 is UL, cUL damp listed standard; wet listing available, made in America.



Visit a•light on the World WideWeb to find your local independent or factory representative, at www.alights.com. a•light is located in its own new architectdesigned plant and office building at 3728 Maritime Way, Oceanside, California 92056. Telephone: (760) 727-6627. Fax: (760) 727-7695. a•light is a division of AmerillumBrands, a multi-faceted, multinational, modern-day manufacturer of specified, contemporary, energy-saving lighting exclusively.

More from Electronic Components & Devices