Miscellaneous Washing Equipment
Arcadian's Nu-Wall™ has been Approved by H-PAC Plastic LLC for the Cleaning of their EZ-Liner™ Wall Panel Systems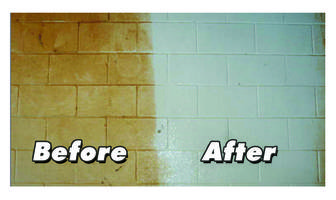 For over 30 years, Arcadian has manufactured a complete line of car and truck wash chemicals specifically designed to improve the wash experience, and to clean superior to everything on the market.
Florence, AL (3/15/17) - Arcadian's Nu-Wall is an acidic wall cleaner designed for cleaning car wash bay walls. It can be used on fiberglass panels, FRP, metal sheets, vinyl sheets, painted block, and most types of brick. Simply spray on with low pressure and rinse off with high pressure, no scrubbing required.
H-PAC Plastic LLC recently approved Arcadian's Nu-Wall as an approved cleaner of their EZ-Liner wall panel systems. These all-weather interlocking systems are utilized within Car/Truck Wash, Food Preparation, and Agriculture industries. Kipp Kofsky, owner of Arcadian Systems stated the following about the approval "We're always listening to our customers, and approvals are extremely important and upkeep and maintenance of the walls within car washes are a priority to appearance and customer appeal and Nu-Wall continues to be the industry leading wall cleaner".
For more information contact Arcadian Services at 1-800-BUY-SOAP or via email at info@arcadianservices.com and on the internet at www.arcadianservices.com.
About Arcadian Services
Manufacturer of advanced chemical solutions, as well as cleaners and degreasers for the car and truck wash industries. Products include presoaks, detergents, soaps, waxes, protectants, wall cleaners, tire & wheel cleaners, tire dressings, and engine cleaners, Offers private label services. Arcadian is also a distributor of car wash systems and equipment. Equipment includes touch-free, tunneling, and self-service car wash systems, floor, wall, and tire cleaning equipment, motors, pumps, and replacement parts.
Arcadian Services
3109 Northington Ct.
Florence, AL 35630
Contact:
Kipp Kofsky
Telephone: 256-766-7734
Email: kipp@arcadianservices.com
Website: arcadianservices.com
More from Cleaning Products & Equipment