Arc Welder is driven by gasoline engine.
Press Release Summary: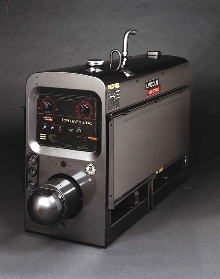 Pipeliner 200G provides 200 A dc at 60 percent duty cycle. It has 5 current ranges with overlap in each range for stick-pipe welding and arc welding processes where slope control is desired. It uses General Motors 3.0 liter, 4-cylinder, water-cooled, industrial gasoline engine with 46 hp at 1,600 rpm. Dc exciter supplies pure dc current to welding generator, and 100 RPM high-idle adjustment provides fine-tuning for performance on pipe.
---
Original Press Release:
Lincoln Electric Introduces Latest Gasoline Engine Driven Welder
Heavy Duty Machine Provides Reliable Operation Cleveland, OH -- The Lincoln Electric Company is pleased to introduce the Pipeliner 200G-its newest gasoline industrial engine driven welder. This latest version of the widely known SA-200 design is intended especially for pipe welders and contractors who demand the best welding arc. The Pipeliner 200G is a heavy duty, tough machine. The basic design has been a standard in the industry for over 60 years for its long-life, reliable operation and great resale value. The Pipeliner 200G offers 200 amps DC at 60 percent duty cycle. It has five current ranges with overlap in each range for stick pipe welding and other arc welding processes, where slope control is desired. Also featured is a new 100-RPM high idle (OCV) adjustment, which provides additional fine-tuning for performance on pipe. A DC exciter supplies pure DC current to the welding generator as requested by the most discriminating operators. The Pipeliner 200G uses all copper windings, which enhance arc stability for the best arc in the industry. In addition to its welding capabilities, the Pipeliner 200G provides 1,750 watts of DC auxiliary power at 115 V. For grinding operations it delivers plenty of staying power under load. For CV-wire arc performance, the Pipeliner 200G can be expanded with the addition of Lincoln's Wire Feed Module for increased versatility. The Pipeliner 200G uses a high quality, General Motors 3.0 liter, 4-cylinder, water-cooled, industrial gasoline engine. This engine features 46 horsepower at 1,600 RPM (full load) operation. This large displacement engine has plenty of reserve power, and utilizes fuel injection for more efficient fuel consumption. Other features of this unit include an exhaust system, service doors and cable strain relief designed for ruggedness and durability. The Pipeliner 200G is manufactured under a quality system certified to ISO 9002 requirements and are covered under Lincoln's 3-year warranty (engine is warranted separately by the manufacturer.) The Lincoln Electric Company, Cleveland, Ohio, is a world leader in the design and manufacture of arc welding equipment and consumables, robotic welding systems, plasma and oxyfuel cutting equipment. For more information on the Pipeliner 200G, please request brochure E6.131 by contacting The Lincoln Electric Company at 22801 St. Clair Avenue, Cleveland, OH 44117-1199, via phone at 1-888-355-3213 or at the company's web site: www.lincolnelectric.com. Attn: Magazine Staff- Please send prospect lead inquiries only to Lincoln Electric c/o Ultimate Lead Systems, Inc., P.O. Box 739, Berea, OH 44017. Pkg 325
More from Electronic Components & Devices