Arc Brake suits electromechanical applications.
Press Release Summary: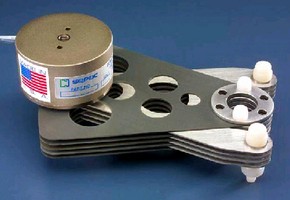 Measuring 5 in. long, 30-Degree Arc Brake supplies 90 lb-ft torque, is spring applied, and electrically released. It has 4 stationary inner disks with friction pucks and 5 rotating outer disks. Steel magnet body and spring loaded armature plate attach to stationary surface. Energized coil compresses spring and attracts armature plate, allowing disks to rotate. Brake is also available as bi-stable, pulse operated brake or power-on brake.
---
Original Press Release:

New Compact, Lightweight Brake Keeps SEPAC Moving Forward



ELMIRA, NY -SEPAC announced its most recent innovation: a compact and lightweight 30-degree arc brake that is spring applied and electrically released and fits into small places, making it ideal for a variety of electromechanical applications.

"Our spring applied brake works in a defined arc; in this case, +/- 15 degrees from the null position," noted the designer, Mike Mower, senior project engineer at SEPAC. "Originally developed for the military, this product has a record of performance and reliability, making it a cost effective solution for commercial industrial applications."

According to Mower, the SEPAC 30-degree arc brake is 5 inches long, weighs 1.1 lbs. and supplies 90 lb. ft. of torque. In contrast, a 360-degree brake that produces 90 lb. ft. of torque would be about 7 inches in diameter and would weigh close to 30 lbs.

The SEPAC 30-degree arc brake design has four stationary inner disks with friction pucks and five rotating outer disks, Mower explained. The steel magnet body and spring loaded armature plate attach to a stationary surface. An energized coil compresses the spring and attracts the armature plate, allowing the disks to rotate. The arc brake also has very low drag when energized.

Mower noted that any application requiring less than 360 degrees of rotation is a candidate for the 30-degree arc brake, such as X-ray, CT scanners, NMR imaging, ultrasound and mammography applications for the medical industry. Although designed as a power-off, spring-set device, SEPAC also offers the brake as a bi-stable (pulse operated) brake or a power-on brake.

SEPAC is in pursuit of a patent for its 30-degree arc brake innovation.

A leading edge designer and manufacturer in the motion-control industry, SEPAC Inc. of Elmira, NY, provides innovative brake and clutch solutions of the highest quality and reliability to OEM's, distributors and end users around the world. To view our product catalog, visit www.sepac.com or call (800) 331-3207.

More from Mechanical Power Transmission