Arbor Solution Secures Rugged Tablet Order from Heavy Equipment Manufacturer for Forklifts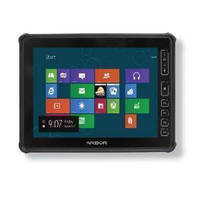 Total Contract will Equip 200 Forklifts with Arbor's Gladius G0975 Rugged Tablet and Dock



San Jose, CA – Arbor Solution announces it has secured the first volume order from a heavy equipment manufacturer to equip its forklifts with rugged tablets. The customer purchased Arbor's Gladius G0975 rugged tablet with the VMC 975 dock for its forklifts in one factory. At the completion of the project, the manufacturer will install the Gladius G0975 on 200 forklifts across six factories. The tablets will be used to direct the driver while performing picks in the factory, and it will interface with a standalone barcode scanner, which collects the inventory information about what is being collected and distributed.



"After successful field testing in a hot, southwest location this summer, Arbor's Gladius G0975 and dock qualified at a fraction of the cost of competing products," said Brian Yurkiw, vice president of Arbor Solution. "In addition to satisfying all of the technical requirements at a low cost, Arbor was chosen because of its U.S.-based service, and its ability to create a system that easily integrated with the customer's existing IT infrastructure."



Rugged Mobility

The Arbor Gladius G0975 tablet is MIL-STD-810G certified for drop and vibration and is IP65 certified as well, meaning it can withstand drops of up to four feet, as well as shocks and spills, and prevents entry of dust and 360-degree water spray. Its rugged characteristics make it perfect for the elements encountered in a factory setting, as well as allow the forklift to move in and out of buildings, without risking damage to the tablet from rain or extreme temperatures.



Features to Ease the Workload

The Gladius G0975 rugged tablet PC features a generous 9.7" XGA TFT color LCD with five-point MultiTouch projected capacitive touchscreen display using the exceptionally thin Corning® Gorilla® Glass that enables more sensitivity and accurate touch response. A second version of the G0975, with an optically bonded screen, is available for use in sunlight or high ambient-light conditions. Additional features include:

•    Intel® Quad Core Celeron® N2930 processor for high-computing performance

•    Intel® HD graphics

•    Support for Windows 7, Windows 8 and their embedded versions

•    Internal and external Lithium-Ion battery packs that provide hot-swap functionality

•    2GB of standard memory; up to 8GB is optional

•    32GB of mSATA Storage is standard; up to 512GB is optional

•    Integrated WLAN, Wi-Fi and Bluetooth connections

•    USB, mini USB, assorted SD, and HDMI ports provide extended versatility

•    Time-saving keys for 'home' and four customer programmable function keys

•    5MP rear facing CMOS camera with auto focus and light supplement

•    System security provided by an encrypted drive or enterprise drive or via a wide variety of third party Windows software solutions



For more information about the Arbor Solution G0975 rugged tablet computer, click here.



Availability and Pricing

The Arbor Solution Gladius G0975 rugged tablet is available from authorized resellers throughout the U.S. and Canada. It comes in two versions: G0975 with standard display with an MSRP starting at $1,118, and the sunlight version with an MSRP starting at $1,335. Both may be customized to user's preferences.



About Arbor Solution, Inc. North America

Arbor Solution, Inc. North America provides embedded systems and rugged tablets to a variety of markets. Its expertise as an Industrial PC (IPC) provider makes it uniquely positioned to provide reliable solutions through a customer-first approach. Its products are known for their high productivity, convenience, efficiency, cost-effectiveness, and dependability. The company is at the forefront of the technology required to conduct business in challenging applications, encompassing operating environments to product size and the coding needed for specialized applications. Arbor Solution North America offices are located in the U.S. in San Jose, CA; Florence, MA; Gaithersburg, MD; and Houston, TX; and in Canada in Ottawa, Ontario. The company is part of Taiwan-based Arbor Technology Corporation.



For more information, visit www.arborsolution.com or e-mail us at sales@arborsolution.com.



Media Contact:

Nicole Fait

Tel. 714-891-3660

Arborsolution@copernio.com



All products/services and trademarks mentioned in this release are the properties of their respective companies.

©2015 Arbor Solution, Inc. North America. All rights reserved.

































More from Controls & Controllers