Arbitrary Waveform Generator tests HDMI 2.0 receivers.
Press Release Summary: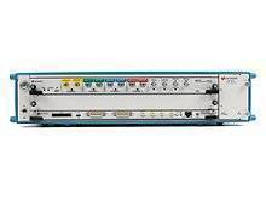 Featuring 65 GSa/s sample rate and 25 GHz analog bandwidth, Model M8195A offers integrated HDMI 2.0 receiver compliance test solution. N5990A automated compliance and device characterization test software provides HDMI sink test option as well as option for HDMI extended display identification data, consumer electronics control, and high-bandwidth digital content protection tests. With channel duplication capability, signal generator allows for addition of intra-pair skew within instrument.
---
Original Press Release:

Keysight Technologies' Arbitrary Waveform Generator Now Supports HDMI 2.0 Receiver Compliance Testing



Integrated High-Definition Multimedia Interface (HDMI) Test Solution Simplifies Product Verification



Highlights:




Ready for the next generation of HDMI with 65 GSa/s sample rate and 25 GHz analog bandwidth



Full support of the N5990A HDMI receiver compliance test automation software



Easy operation with minimal accessories



Perform all receiver tests without delay lines and without manual reconnections



SANTA ROSA, Calif., – Keysight Technologies, Inc. (NYSE: KEYS) today announced that the M8195A 65 GSa/s arbitrary waveform generator (AWG) supports an integrated HDMI 2.0 receiver compliance test solution. The N5990A automated compliance and device characterization test software offers the broadest HDMI 2.0 test coverage in the market and now allows fast and reliable HDMI 2.0 testing with the M8195A AWG.



In addition to the N5990A software's HDMI sink test option 151, the automated test solution includes option 350 for HDMI extended display identification data (EDID), consumer electronics control (CEC) and high-bandwidth digital content protection (HDCP) tests. All relevant HDMI 1.4 and 2.0 tests are supported, including source and sink transition minimized differential signaling (TMDS) protocol 6G and scrambling tests.



With the industry's first channel duplication capability, the M8195A-based signal generator allows for the addition of an intra-pair skew within the instrument. This eliminates the need for external delay lines, which in the past, engineers had to adjust manually during a sensitive calibration process. This approach also allows for a very quick check on the design margin of a customer's device under test (DUT) as engineers can dynamically adjust the intra pair skew in real time.



Furthermore, the output stage of the M8195A signal generator was designed to natively support the signaling levels required for HDMI compliance testing, which removes the requirement for external Bias T components in the signal path. The signal generator only requires an HDMI 2.0 approved test fixture in order to connect to an HDMI sink DUT. No reconnection of external accessories is required when the HDMI TMDS receiver electrical compliance tests are performed.



The new TMDS signal generator system consists of two M8195A 2-channel modules and a M8197A multi-channel synchronization module.



"This signal generator configuration sets a new standard for simplifying HDMI receiver compliance test," said Satish Dhanasekaran, general manager and vice president of Keysight's Wireless Device & Operators organization. "This solution addresses the need for more efficient and consistent certification processes in compliance test labs and authorized test centers."



"With a sample rate of 65 GSa/s and an analog bandwidth of 25 GHz, the M8195A based TMDS signal generator system is well suited to support future revisions of the HDMI standard," Dhanasekaran added.



Additional information is available at www.keysight.com/find/M8195A and www.keysight.com/find/automation.



U.S. Pricing and Availability

The 2 x 2-channel M8195S AWG system is available at an entry price of $301,824, the N5990A HDMI 2.0 test software starting at $15,838.



About Keysight in Digital Test

Keysight's solutions for digital applications are driven and supported by Keysight experts who are involved in various international standards committees. Keysight experts are active in the Joint Electronic Devices Engineering Council (JEDEC), PCI Special Interest Group (PCI-SIG®), Video Electronics Standards Association (VESA), Serial ATA International Organization (SATA-IO), USB Implementers Forum (USB-IF), Mobile Industry Processor Interface (MIPI®) Alliance, Ethernet standards (IEEE 802.3), Optical Internetworking Forum (OIF) and many others. Keysight is committed to involvement in standards groups and related workshops, plugfests and seminars to ensure the right test solutions are created to meet customers' evolving needs.



About Keysight Technologies

Keysight Technologies (NYSE: KEYS) is a global electronic measurement technology and market leader helping to transform its customers' measurement experience through innovations in wireless, modular, and software solutions. Keysight's electronic measurement instruments, systems, software and services are used in the design, development, manufacture, installation, deployment and operation of electronic equipment. The business had revenues of $2.9 billion in fiscal year 2015. Information about Keysight is available at www.keysight.com.



PCI-SIG® is a registered trademark of PCI-SIG.



MIPI® service marks and logo marks are owned by MIPI Alliance, Inc. and any use of such marks by Keysight Technologies is under license. Other service marks and trade names are those of their respective owners.



Additional information about Keysight Technologies is available in the newsroom at www.keysight.com/go/news.



CONTACTS:



Janet Smith, Americas

+1 970 679 5397

janet_smith@keysight.com

Twitter: @KeysightJSmith



Sarah Calnan, Europe

+44 (118) 927 5101

sarah_calnan@keysight.com



Connie Wong, Asia

+852 3197-7818

connie-ky_wong@keysight.com

More from Fasteners & Hardware