Arbitrary Waveform Generator provides 204 kSa/s/channel.
Press Release Summary: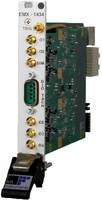 Built on PXI Express card, Model EMX-1434 features dual-channel 1 MHz counter/timers, 24-bit DACs, and 4-channel digital I/O for synchronizing with dynamic signal analyzers. Output modes include Sine, Burst Sine, Chirp, Burst-random, and continuous random. End-to-end self-calibration is performed using precise onboard voltage reference source. Featuring spurious free dynamic range of -115 dB, device is suited for rotational measurement, and stimulus-response applications such as vibration test.
---
Original Press Release:

PXI Express 24-bit, Arbitrary Waveform Generator with Dual Channel Counter Input Designed for Precision Test Application



Irvine, CA — VTI Instruments is pleased to announce the introduction of its EMX-1434 - a PXI Express 4-Channel 24-bit 204 Ksa/s Arbitrary Waveform Generator with dual-channel 1 MHz counter/timers and digital I/O. Building on the company's pedigree as a leading precision modular instrument supplier, the EMX-1434 provides unmatched hardware performance for low frequency, high- accuracy applications, such as Engine Control Unit (ECU), Sound and Vibration or medical device functional testing. 



Measurement accuracy is further maximized utilizing a unique approach for run-time self-calibration eliminating the need to disconnect field connections or remove the instrument from service. Complete end-to-end self-calibration is performed using a precise onboard voltage reference source permitting execution at test time, at current temperature. This approach not only delivers the most accurate measurements possible, but also validates the instrumentation signal path prior to test, resulting in maximum test equipment utilization, reduced need for spares, and reduced down time.



The EMX-1434 is a multi-function:

4-Channel, 204.8 kSa/s/channel, 24-Bit DACs

-115 dB spurious free dynamic range

Integrated 2-Channel 64-bit tachometer

Integrated 4-Channel DIO for synchronizing with dynamic signal analyzers

Ideal for rotational measurement, and stimulus-response applications such as vibration test

Output modes including Sine, Burst Sine, Chirp, Burst-random and continuous random



"The EMX-1434 has the power and performance of a standalone instrument but on a PXI Express card. With "lean" instrument drivers it can be easily integrated within our users application programs whether written in LabVIEW, C or other languages. Alternatively for mechanical test applications VTI's powerful DSA driver and software packages like EXLab, IDEAS for Test, X-modal tightly synchronize the instrument with VTIs digitizers to form a complete turn-key solution for NVH" commented Chris Gibson, Product Manager - Data Acquisition & Control.



To read more about the EMX-1434 please visit our website



About VTI Instruments

VTI Instruments delivers precision modular instrumentation and systems for electronic signal distribution, acquisition, and monitoring, used in the world's most demanding test applications. The company's products and systems are used to monitor and record data that characterizes the physical integrity and performance of aircraft, engines, and other large structures, as well as automate the functional testing of complex electronic systems.



VTI is recognized as an industry leader with a reputation of providing reliable data, first time, every time. A sustained focus on innovation and technology enables VTIs customers to optimize their capital investment through product longevity, while ensuring unmatched measurement integrity and data reliability.



VTI Instruments is a unit of AMETEK, Inc., a leading global manufacturer of electronic instruments and electromechanical devices.



Contact Us:

VTI Sales

sales@vtiinstruments.com

(949)955-1894

More from Controls & Controllers