Aramid Paper offers reinforcement for electronic packaging.
Press Release Summary: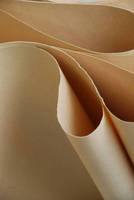 Featuring extreme surface smoothness for uniform resin application and low coefficient of thermal expansion (CTE) for dimensional stability, ViaMat(TM) is nonwoven organic reinforcement material for electronic packaging. It can be processed on most existing glass resin saturation lines and exhibits laser/plasma ablation and drillability, allowing for high interconnect densities. Paper is suited for applications such as avionics, medical devices, and high capacity servers.
---
Original Press Release:

ViaMat Nonwoven Aramid Paper Improves Dimensional Stability



March 31, 2009

EAST WALPOLE, MASS.- Hollingsworth & Vose today introduced its ViaMat(TM) aramid paper as a new nonwoven organic reinforcement material for electronic packaging. The new ViaMat paper delivers improvements in dimensional stability and enables higher interconnect densities.

"ViaMat paper fills the void created by the technical limitations of woven glass in advanced high-performance electronic packaging applications," said Nate Burnes, Business Manager for Advanced Fiber Nonwovens (AFN) at Hollingsworth & Vose.

Moreover, for manufacturers of PCBs on woven glass reinforcement, ViaMat paper provides a path of opportunity to expand their product offerings into high performance electronics applications such as avionics, portable electronics, medical devices, and high capacity servers.

Hollingsworth & Vose's new ViaMat nonwoven aramid paper features:

o Extreme surface smoothness for uniform resin application

o Low CTE (Coefficient of Thermal Expansion) for excellent dimensional stability as aramid fibers exhibit a negative CTE and restrain expansion of applied resins

o Saturation of ViaMat paper can be processed on most existing glass resin saturation lines with minimal capital investment

o Randomly aligned fibers create an isotropic nonwoven paper for uniform density and resin pickup

o Excellent laser/plasma ablation and drillability allowing for increased interconnect density over industry standard woven materials

ViaMat nonwoven aramid paper rolls are manufactured in the United States and are immediately available for evaluation.

For more information, visit Hollingsworth & Vose at www.hollingsworth-vose.com/products/afn/viamat-aramid-paper.htm, email viamat@hovo.com, or call 1-508-850-2000.

About H&V
Established in 1843, Hollingsworth & Vose Company (www.hollingsworth-vose.com) is a global leader in the supply of technically advanced nonwovens for electronics and industrial applications; engine, high efficiency and liquid filtration media; and battery separator materials. H&V's expertise and process capabilities include wet-laid, dry-laid, meltblown and composite technologies. The company operates manufacturing sites and research centers in the Americas, Europe, and Asia.

Company Name: Hollingsworth & Vose

Address 1: 112 Washington Street

City: East Walpole

State: MA

Zip: 02032

Country: USA

Phone: 1-508-850-2000

URL: www.hollingsworth-vose.com

More from Electronic Components & Devices