AR-Coated Cylinder Lenses focus light in one direction.
Press Release Summary: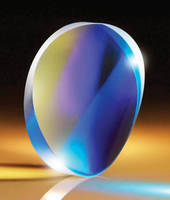 TECHSPEC® Laser Line PCX Cylinder Lenses serve applications that require light to be focused in only one direction, including light focused into slit or line scan detector. With <0.25% reflection at laser output wavelength, anti-reflective (AR) coatings for common wavelengths maximize transmission. RoHS-compliant lenses, which come in 24 models with 12.5 or 25 mm dia, feature N-BK7 substrate and 60-40 surface quality and may be used in pairs to collimate and circularize diode laser output.
---
Original Press Release:

TECHSPEC® Laser Line PCX Cylinder Lenses Focus Light in One Direction



Coated for maximum transmission at common laser wavelengths



Barrington, N.J. - Edmund Optics® (EO), the premier provider of optical components, introduces its new TECHSPEC® Laser Line PCX Cylinder Lenses. These versatile cylinder lenses are designed for applications that require light to be focused in only one direction, including light focused into a slit or line scan detector. 



Anti-reflective coatings provide maximum transmission

TECHSPEC Laser Line PCX Cylinder Lenses are offered with a choice of multiple precision anti-reflective coatings for common wavelengths. These coatings provide maximum transmission with less than 0.25% reflection at the laser output wavelength. TECHSPEC Laser Line PCX Cylinder Lenses may be used in pairs to collimate and circularize diode laser output. 



Round sizes ease integration

TECHSPEC Laser Line PCX Cylinder Lenses are offered in round sizes for easy integration into optical systems and devices. These RoHS-compliant lenses are available in 24 models with 12.5 mm or 25 mm diameters and feature an N-BK7 substrate and an impressive 60-40 surface quality. TECHSPEC Laser Line PCX Cylinder Lenses are in-stock and available for immediate delivery for fast turnaround and excellent value.



About EO:

Edmund Optics® (EO) is a leading producer of optics, imaging, and photonics technology for R&D, electronics, semiconductor, pharmaceutical, biomedical, and military markets around the globe. EO is the world's largest supplier of off-the-shelf optical components. Customers can purchase items by contacting EO at 1-800-363-1992, via the catalog, or via the website at www.edmundoptics.com



Company Contact:

Kirsten Bjork-Jones

Director Global Marketing Communications

Edmund Optics®, Inc.

101 East Gloucester Pike

Barrington, NJ 08007 U.S.A.

Phone: 1-800-363-1992

Fax: 1-856-573-6295

email: kbjork-jones@edmundoptics.com

More from Electronic Components & Devices