Aqueous Technologies Brings a Lineup of Cleaning and Cleanliness Testing Products to APEX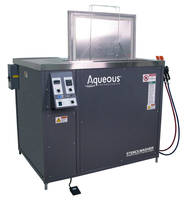 Corona, CA – Aqueous Technologies, North America's largest manufacturer of fully automated cleaning/defluxing machines and cleanliness testing equipment, will exhibit in Booth #1549 at the IPC APEX EXPO, scheduled to take place Feb. 24-26, 2015 at the San Diego Convention Center in California. Company representatives will demonstrate a lineup of environmentally responsible cleaning and cleanliness testing products, including:



Trident ZDO zero discharge automatic cleaning and cleanliness verification system automatically washes, rinses, verifies cleanliness and fully dries assemblies within a single compact machine. The wireless barcode scanner allows all assemblies being cleaned to have their serial numbers scanned and entered into the machine's SQL database. Additionally, Trident ZDO offers fast cycle times up to 200 5"x4" (127mm x 101mm) assemblies per hour and is capable of cleaning assemblies up to 18"x20" (457mm x 508mm).



The Trident LDO low discharge automatic cleaning and cleanliness verification system includes a closed loop wash solution section and an open loop rinse section. In this system, wash solution is reused while fresh DI rinse water is sprayed and drained. Trident LDO is capable of removing residues, including all lead and lead-free residues from low stand-off component spaces.



The Zero-Ion G3 ionic contamination (cleanliness) tester is designed to test electronics assemblies for ionic contamination. It automatically removes and detects contamination on an electrical assembly or bare board and provides quantitative contamination measurements. The Zero-Ion meets the requirements of military and commercial cleanliness testing standards including MIL 2000A, IPC test method 001, MIL-C-28809, MIL-P-55110 and IPC TM650-2.3.26.



The StencilWasher ZDO zero discharge ultrasonic stencil cleaning system is designed to remove all solder paste types including no-clean, rosin, and water soluble as well as all uncured SMT adhesives. StencilWasher-ZDO is equipped with a filtered and recirculated wash system and a fully closed-loop rinse system. All rinse water is captured, filtered, re-deionized, and reused. There is no connection to drain. StencilWasher-ZDO comes standard-equipped with all of the features required for thorough wash, rinse, dry, filtration, and closed-loop functions, eliminating the need to purchase costly optional items.



For more information about Aqueous Technologies, visit www.aqueoustech.com.



About Aqueous Technologies

Founded in 1992 and headquartered in Rancho Cucamonga, CA, Aqueous Technologies is North America's leading manufacturer of aqueous cleaning systems. Aqueous Technologies manufactures batch-format aqueous cleaning/defluxing systems. Aqueous Technologies also manufactures ultrasonic stencil cleaning systems, PCB and stencil cleaning chemistries and the Zero-Ion ionic contamination (cleanliness) tester. Aqueous Technologies' products have won more than 40 industry awards. Visit the company on the Web at www.aqueoustech.com.

More from Controls & Controllers