Aqueous Coalescer aids filtration of industrial fluids.
Press Release Summary: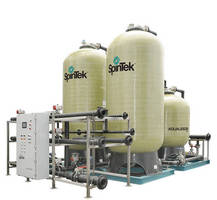 Aqualescer® allows users to capture and control size of bubble and rate of in-flow in industrial wastewater, where small molecules can be captured and coalesced. Operating at pressures under 140 kPa, aqueous coalescer obtains entrained organic removal rate of up to 95%. It can be used to augment dual-media system or as standalone system. Product is suitable for mining operations, refineries, oil fields, and production of diesel fuel.
---
Original Press Release:

Spintek Filtration Introduces New Aqualescer® to Capture the Tiniest Molecules in Mining



Los Alamitos, Calif. – Spintek Filtration, an industry leader in providing filtration separations for industrial wastewater applications through invention, creative licensing and strategic partnering, is proud to announce the development of the Aqualescer®, an aqueous coalescer that will allow mining companies to keep up with new regulations by capturing and separating tiny molecules in their materials.



The Aqualescer® is a new technology that allows companies to capture and control the size of their bubble and the rate of the in-flow, so that smaller molecules can be captured and coalesced. This system can be used to augment an existing dual-media system, or it can be a standalone on other parts of the plant.



The Aqualescer® can be used in more than just mining; it can be used in refineries and oil fields, and in the production of diesel fuel.



"Our field testing programs proved the Aqualescer® met the desired goals as a pre-treatment to dual-media filters to improve final effluent quality, reduce backwash frequency, and recover entrained organic more easily," said William Greene, President of Spintek. "The system is capable of operating at pressures under 140kPa and will obtain entrained organic removal of up to 95 percent. "Low operating pressures allow for reduced capital costs and the ability to treat entire raffinate streams previously not feasible due to extremely high capital and operating costs."



Spintek also provides SX (solvent extraction) filters to its worldwide fleet of customers, including Kounrad Copper Company of Kazakhstan and Fluor of Chile and Canada. These solvent extraction filters are used all over the world to extract copper, nickel and mother materials.



For more information about Spintek, please visit their website at www.spintek.com , or call 714-236-9190.



ABOUT US:

Spintek specializes in engineered filtration solutions for industrial, commercial and oily waste water applications. With hundreds of HydroMet installations worldwide, the company designs/manufactures solvent extraction (SX) dual media filters and proprietary CoMatrix® filters for copper, nickel, zinc, cobalt and uranium mining operations.



The unique Aqualescer® coalescing filters are ideal for hydrometallurgy applications and petroleum or oil field applications as an add-on or as a stand-alone system for high volume organic removal or oily wastewater applications.



The ST-II rotating filter using stainless steel membranes is suitable for extremely harsh wastewater or nuclear environments; for high solids or viscous applications where conventional filters typically fail.



The proprietary Sparkle® drinking water filter is a back-washable hollow fiber membrane drinking water filter designed for rural or remote areas and developing countries where electricity is infrequent or unavailable.



More from Electronic Components & Devices