Aqueous Cleaners feature soil rejection chemistry.
Press Release Summary: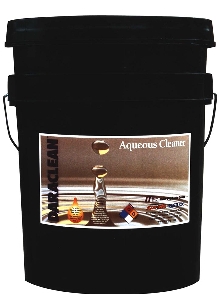 DARACLEAN® Cleaners consist of concentrated water-based liquids ranging from neutral to alkaline, formulated to remove soils from multi-metals and non-metallic materials. Self-cleaning ability enhances filtration effectiveness. Cleaners are non-flammable, low VOC, non-ozone depleting, and non-toxic. They come in 5 gal pails and 55 gal drums. Most have aerospace, SCAQMD (South Coast Air Quality Management District), and automotive approvals.
---
Original Press Release:
Daraclean® Superior Line of Aqueous Cleaner

Glenview, Illinois, May 14, 2002 - ITW Fluid Products Group, Inc, is launching DARACLEAN® to the industrial market place. DARACLEAN® cleaners benefit from long time aerospace and automotive success.

The DARACLEAN® Product Line consists of concentrated water based liquids ranging from neutral to alkaline formulated to remove a broad spectrum of soils from multi-metals and non-metallic materials. DARACLEAN® cleaners feature excellent soil rejection chemistry, resulting in a system that can be fully recycled and a system that is exceptionally cost-effective. The DARACLEAN® Product Line has a unique self-cleaning ability that enhances filtration effectiveness. It is non-flammable, low VOC, non-ozone depleting and non-toxic. Most DARACLEAN® cleaners have aerospace, SCAQMD (South Coast Air Quality Management District) and automotive approvals.

DARACLEAN® aqueous cleaners are available in 5 gallon Pail and 55 gallon Drums.

A division of Illinois Tool Works, ITW Fluid Products Group is a leading supplier of high-performance coolants and environmentally safe lubricants. Accu-Lube® brand products include metalworking lubricants and related application equipment. Rustlick® brand coolant management products include machining fluids, EDM fluids, and corrosion control and sump maintenance systems. SafeTap® offers a wide range of environmentally compatible tapping fluids.

ACCU-LUBE - RUSTLICK - SAFETAP - PHONE: (800) 452-5823 - FAX: (800) 952-5823
More from Sensors, Monitors & Transducers