APW Direct Drive Panel Fan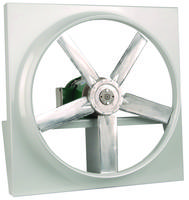 Continental Fan's APW Panel Fans provide superior performance and require little or no maintenance. The direct drive APW offers aerodynamically efficient performance within a heavy duty welded steel panel and motor base.
This powerful fan is available in diameters from 14" through 60", with capacities ranging to 60,000 cfm. The APW Panel Fan has a factory set, adjustable pitch impeller for precise performance matching. The airfoil axial impeller is constructed of spark resistant die cast aluminum.
Continental Fan provides unique fan designs that are quiet, efficient and performance driven.
FEATURES & BENEFITS
• Spark resistant cast aluminum airfoil axial impeller
• Factory set adjustable pitch blades
• Deep drawn steel venture with baked polyester paint
• Heavy duty welded steel motor base and panel construction
• TEFC industrial duty motor
• Simple maintenance - no belts or pulleys
• Sizes range from 14" to 60"
• Direct drive capacities to 60,000 cfm
For more information contact Bruce Gover, or visit us on the web to view our full line of OEM Solutions & Custom Fans.
USA - Continental Fan Manufacturing Inc.
203 Eggert Road, Buffalo, NY 14215
T: 716-842-0670 • 800-779-4021
F: 716-842-0611
CANADA – Continental Fan Canada Inc.
12-205 Matheson Blvd E, Mississauga, ON L4Z 3E3
T: 905-890-6192 • 800-779-4021
F: 905-890-6193
Contact:
Bruce Gover
Continental Fan Manufacturing Inc.
T: 800-779-4021 Ext: 302
F: 937-233-5534
More from HVAC