APV Engineered Coatings Debuts New High-Performance, Customizable Coating for Flexible Vinyl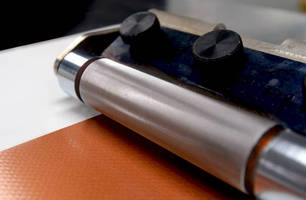 AKRON, OHIO — APV Engineered Coatings, a manufacturer and marketer of coatings and chemical products for over 135 years, has launched a new product, Vynguard® Weldable PVDF. A customizable, high-performance fluoropolymer coating, Vynguard® Weldable PVDF is specifically engineered to protect flexible vinyl films used in outdoor applications.



Using a fluoropolymer chemistry originally developed for metal roofing, and for a cost of less than $.10 per square foot of vinyl, Vynguard® Weldable PVDF for flexible vinyl materials is able to:



•block 100% of plasticizer migration

•be customized to suit each customer's performance criteria

•provide protection against the elements for well over ten years

•sustain the coated product's aesthetics.



As a result, products coated with Vynguard® Weldable PVDF have a longer useful life, lower cost of ownership and maintain their visual appeal throughout their use. In addition, Vynguard® Weldable PVDF is the only coating of its type offered in both solvent-based and water-based formulations. Using the eco-friendly water-based formulation can substantially lower a company's environmental remediation costs.



The unique chemistry of Vynguard® Weldable PVDF allows the customer and APV to collaborate on the product's formulation to produce a coating tailored to the customer's specific needs, helping to create differentiation and a unique selling advantage.



"We're thrilled to see our development efforts come to fruition and expect great things from this product," said Michael Couchie, Vice President of Sales Marketing for APV Engineered Coatings. "Flexible roofing, flexible decking, tent, awning, media and signage, automotive and marine upholstery – these are a few of the markets where we see tremendous opportunity for Vynguard® Weldable PVDF."



"This is an exciting time for APV," added Erin Brown, Marketing Director at APV Engineered Coatings. "We've spent the last three years testing and proving out the benefits of Vynguard® Weldable PVDF with one large customer and a few other prospects, so we are now we're ready to go to market with this superior technology."



Vynguard® Weldable PVDF is engineered to be applied using gravure, reverse roll, or knife-over-roll. The product is developed and manufactured at APV's facility in Akron, Ohio, and is shipped to domestic and international desinations.



About APV Engineered Coatings

Founded in Akron, Ohio in 1878, APV Engineered Coatings manufactures innovative, custom products that are sold around the world, to a wide variety of industries. The company offers coatings and chemical products as well as engineering and manufacturing solutions to meet the demands of today's needs for specialty coatings and paints. For more information on products and solutions, visit www.apvcoatings.com or call 800-772-3452.



More from Non-Industrial Products