Stepper Motor Controllers and Drives
Applied Motion Launches STR Series Stepper Drives with Advanced Microstepping Performance
Press Release Summary: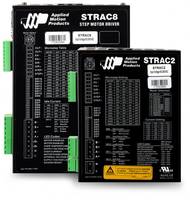 STR Series Stepper Drives are offered in STRAC2 and STRAC8 models and a current of up to 2.2 A/phase and 0 A/phase respectively. Units are operated on 90 to 240 VAC input voltage supply and are suitable for applications ranging from motion control to basic step and direction. Units feature microsteps of 25,000 steps/rev with 1.8° step motor (1/125 step). The drives allow user to set parameters such as motor selection, current, and step resolution.
---
Original Press Release:
Applied Motion Products Introduces New Series of Stepper Drives for AC-Powered Applications Requiring Maximum Power
Watsonville, CA…May 8, 2018…Applied Motion Products expands its family of STR Stepper Drives with two new AC-powered units for use in industrial applications powered by AC supply voltages. Offering the benefits of low noise, smooth motion, and high torque over wide speed ranges, the STRAC Stepper Drives bring high-performance motion control to basic step and direction applications. Units are ideal for larger motors and applications requiring maximum power.
Like their DC-powered counterparts, STRAC Stepper Drives feature advanced microstepping performance and current control with anti-resonance that improves motor smoothness and torque over a wide speed range. Units operate on AC supply voltages of 90 to 240 VAC and wire directly to 120 or 220 VAC line voltages to eliminate DC power supply requirements. The drives internally convert AC line voltages to high DC bus voltages to drive large step motors at maximum power.
Available in two models, the STRAC2 provides up to 2.2 A/phase while the STRAC8 provides up to 8.0 A/phase. Every stepper drive in the STR Series operates in step & direction or pulse/pulse control mode. Selecting between the two modes is simple by moving a jumper located under the drive cover or via dip switch on the front panel. Each drive microsteps to 25,000 steps/rev with a 1.8° step motor (1/125 step) even when command pulses are low resolution - thanks to the proprietary step smoothing filter. Users can set up drive parameters – including motor selection, current, and step resolution – using dip or rotary switches. No software is required.
Cost-effective and easy-to-use, STRAC Stepper Drives are UL Recognized, CE certified, and RoHS compliant. Applied Motion Products offers a full complement of NEMA 23 and 34 frame step motors optimized for use with these new AC-powered drives. For more information on the STRAC Stepper Drives, visit the website. Or contact Applied Motion Products for technical support by completing the online contact form or calling 1-800-525-1609.
About Applied Motion Products
Founded in 1978, Applied Motion Products specializes in high-precision, cost-effective motion control products including stepper and servo motors, drives, controllers, gearheads, and power supplies. The company serves a diverse industrial and OEM customer base with both standard and customized products. With in-depth motor and control expertise, Applied Motion Products works with customers from initial concept and design through finished product and production to provide the best motion control solutions to a range of markets. Find out more at https://www.applied-motion.com/ or contact the company at 1-800-525-1609.
Marketing Contact:
Eric Rice
erice@applied-motion.com