Applicator Head suits high speed applications.
Press Release Summary: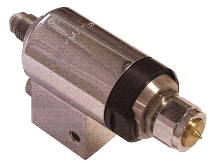 Electromatic XVI Mid Size Applicator Head operates at pressures up to 2,000 psi, and typically fires above 1800 cycles per minute. Internal 24 Vdc or 120 Vdc solenoid coil eliminates need for additional valves, and may be operated by PLC. All wetted parts are stainless steel, with only one moving part and no seals or packings to wear. Applicator head is intended for use with cold adhesives, coatings, silicones, marking inks, water, and lubricants.
---
Original Press Release:
New Mid Size Applicator Head

Spraymation, Inc., originators of direct solenoid operated adhesive applicator heads, offers informative new 4 page color brochure describing the new Electromatic XVI Mid Size Applicator Head, which is designed specifically for areas where light weight and small size, coupled with high speed, trouble free operation is important.

The Electromatic XVI is 70% smaller than the standard size head, which continues to be the ultimate for extremely critical high speed operations, and has been proven for over 40 years.

The applicator head is intended for use with cold adhesives, coatings, fragrances, silicones, marking inks, water, lubricants and other similar fluids. Applications which will find its use
advantageous include packaging, product assembly, nonwoven products, carton and paperboard manufacture, product marking, etc.

All wetted parts are stainless steel, with only one moving part, and no seals or packings to wear or inhibit its movement, high speed, drip free operation is ensured, and maintenance is minimized.

The applicator weighs 15 ounces, operates at pressures up to 2,000 psi, and typically fires above 1800 cycles per minute. The internal 24 VDC or 120 VDC solenoid coil eliminates the need for any additional valves, and it may be operated by user provided equipment such as a PLC, or a variety of Pattern Controllers available from Spraymation, Inc. Fluid may be supplied by pump, pressure tank, or gravity feed.

For additional information, contact Anthony J. Diaz, National Sales Manager, Spraymation Inc., 5320 N.W. 35th Avenue, Fort Lauderdale, Florida 33309-6314, Telephone (954) 484-9700, or email sales@spraymation.com, or view our website at www.spraymation.com.

SPRAYMATION, INC.; 5320 Northwest 35th Avenue; Fort Lauderdale, Florida 33309-6314

Telephone: 954/484-9700; e-mail: sales@spraymation.com; Fax: 954/484-9778
More from Electrical Equipment & Systems