Application Spotlight: Welker Expanding Locating Pin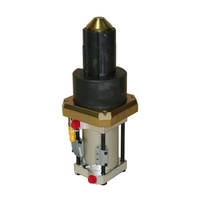 When presented with an application challenge from a major Midwest agricultural manufacturer, Welker went right to work to create a solution.  The problem: how to accurately and repeatably locate critical parts using gage holes having a +/- 0.25mm tolerance. 



The solution: an expanding locating pin.  The Welker expanding pin has fingers that are located below the surface of the pin. When actuated, the fingers expand to center and locate the part, serving as an internal clamp. Mechanical advantage keeps the fingers in position until the actuator retracts. Ease of loading and unloading is enabled, while providing the desired accuracy.



Since its introduction, the Welker expanding pin has been utilized in a wide range of 2-way and 4-way locating applications. Each unit is custom engineered to suit the application. Variations include: multiple finger arrays; stepped finger pins; double support pins; along with bullet, flat, or conical noses. Other configurations have been designed for irregular part geometry requiring square or rectangular pins. Expanding pins are available from 30 to 200mm in diameter.



Welker's expanding pin is ideal for welding and applications where complete access to the part is needed. The expanding action of the fingers can also be used when part separation is required, such as post-machining engine block separation. To view the video and for more info, visit http://www.welkerproducts.com/expanding_pins.php 



About Welker



For more than 80 years, Welker Engineered Products has helped manufacturers achieve their objectives of performance and reliability. Serving the automotive and transportation, industrial, agricultural, marine and special machine industries among others, Welker prides itself in its ability to assess the application needs of its customers and provide innovative solutions. Long recognized for expertise in self-lubricating plane bearing technologies, over the last 20 years Welker has developed many "Best-in-Class" automation components. These products complement Welker's plane bearing technologies by providing maintenance free solutions for today's flexible manufacturing environment. Welker produces standard components for locating, clamping, sliding, lifting, ejecting, transporting, stopping and rotating applications.



More from Communication Systems & Equipment