Application Ready Set of Building Blocks for Ticketing, Fleet Management and Communication in Public Transportation: Kontron Venturo Vehicle Management System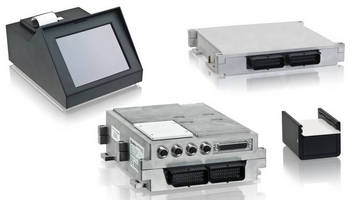 Integrated embedded platforms for buses and light rail trains

Eching/Berlin, Germany - Today at InnoTrans in Berlin, Kontron is premiering the Kontron Venturo Vehicle Management System, an application ready set of building blocks for all computing and communications tasks in buses and light rail trains in public transportation. The integrated kit offers solution providers, system houses and system integrators a complete application ready platform for improved time to market which can be individually combined and also customized to meet individual requirements.

The EN50155-compliant Kontron Venturo Vehicle Management System for buses and light rail trains consists of three elements. First is the Kontron Venturo CBox, central management and communication computer, second is the Kontron Venturo HMI driver and passenger display unit with integrated ticket printer and third is the Kontron Venturo GBox, an audio and emergency call unit.. The high flexibility and open x86 architecture makes the Kontron Venturo Vehicle Management System a powerful integrated platform for public transportation. Compared to most other platforms, which concentrate on decentralized in-vehicle applications, the integrated Kontron platform centralizes all tasks such as ticketing, passenger information, location identification, data acquisition, vehicle and system diagnostics, as well as internal and external communications management on a single platform. This simplifies system integration and makes administration and maintenance extremely convenient, therefore reducing the total cost of ownership (TCO) of public transportation services. The rugged, fan-less design with a high mean time between failure (MTBF) of 80,000 hours and a temperature range of -25 °C to +60 °C plus the intelligent cabling with minimized connector count for easier installation and improved Mean-Time-To-Repair (MTTR) pave the way for smooth operation, further enhancing reliability and TCO.

The Kontron Venturo CBox at a glance
The Kontron Venturo CBox is the central computing device to maintain the vehicle management. Based on the energy-efficient Intel Atom processor Z5xx with 1.1 GHz or 1.6 GHz and 1 to 4 GByte RAM, it centralizes all communication and computing tasks. For communication flexibility, it features an internal UMTS module (HSxPA, UMTS, GPRS and EDGE), a WiFi module for wireless networking with IEE 802.11/a/b/g WLANs plus a GPS module with gyroscope and odometer interface for dead reckoning. A rugged, 90 pin, automotive connector handles all I/Os (CAN-Bus, 12 isolated railway EN50155-compliant serial ports, 4 x RS232 and 12 EN50155-compliant digital I/Os) as well as the power supply. Up to four IP-based peripherals can be connected via four Fast Ethernet M12 connectors and a 50-pin DSUB connector bundles all communication signals and the power supply to the Kontron Venturo HMI.

The Kontron Venturo HMI at a glance
The Kontron Venturo HMI is the central driver interface. It features a sunlight readable 8.4 inch SVGA (800 x 600 pixel) touch screen for intuitive handling and operational safety. A ticket printer and a two-line fluorescent display for customer information (i.e. for displaying fares) are integrated into the driver console, both centrally controlled by the Kontron Venturo CBox via serial RS-422 interfaces (American EAI-422). With a rugged IP64-protected enclosure, and operational temperature range 0 °C to +50 °C, it can withstand the demanding environments in the cabin. An optional RFID badge reader for driver identification/authorization allows two ISO 14443A/B-compliant RFID cards (e.g., Mifare DESFIRE) to be simultaneously read. The cards can remain permanently and securely inserted without any risk of destruction or accidental detachment due to shock and vibration during operation of the vehicle.

The Kontron Venturo GBox at a glance
Designed as an independent system, the EN50155-compliant Kontron GSM-voice and audio box Venturo GBox combines emergency call functionality with an integrated audio switch. It can be placed anywhere near the audio sources to minimize the amount of wiring. Independently from the board computer, the audio box takes over key security functions. Activation of one of a total of two connectable emergency switches automatically initiates a voice connection via an integrated quad band GSM module for mobile communication. To control these fundamental security options, as well as the switching tables for five different audio sources on three audio outputs including one amplified output, the fan-less Kontron Venturo GBox offers an embedded JAVA processing unit based on an ARM 9 processor architecture.

For more information on the Kontron Venturo Light Rail / Vehicle Management System visit: www.kontron.com/industries/transportation/platforms+for+transportation/venturo+light+rail++vehicle+management+system.html

For more information on Kontron's solutions for transportation, please visit: www.kontron.com/industries/transportation/

About Kontron
Kontron, the global leader of embedded computing technology, designs and manufactures embedded and communications standards-based, rugged COTS and custom solutions for OEMs, systems integrators, and application providers in a variety of markets. Kontron engineering and manufacturing facilities, located throughout Europe, North America, and Asia-Pacific, work together with streamlined global sales and support services to help customers reduce their time-to-market and gain a competitive advantage. Kontron's diverse product portfolio includes: boards & mezzanines, Computer-on-Modules, HMIs & displays, systems & platforms, and rugged & custom capabilities. Kontron is a Premier member of the Intel® Embedded Alliance and has been a VDC Platinum Vendor for Embedded Computer Boards 5 years running. Kontron is listed on the German TecDAX stock exchange under the symbol "KBC". For more information, please visit: www.kontron.com

Digital image (jpg) and text (PDF): www.kontron.com/about-kontron/news-events/application+ready+set+of+building+blocks+for+ticketing+fleet+management+and+communication+in+public+transportation+kontron+venturo+vehicle+management+system.4102.html

Americas
Richard Pugnier
Kontron
Tel:+1 (858) 623-3006
richard.pugnier@us.kontron.com

Annette Keller
Keller Communications
Tel:+1 (949) 640-4811
annettekeller@sbcglobal.net

All rights reserved.

Kontron is a trademark or registered trademark of Kontron AG.
Intel and Intel Atom are trademarks of Intel Corporation in the US and other countries.

All other brand or product names are trademarks or registered trademarks or copyrights by their respective owners and are recognized.

All data is for information purposes only and not guaranteed for legal purposes. Subject to change without notice. Information in this press release has been carefully checked and is believed to be accurate; however, no responsibility is assumed for inaccuracies.

More from Materials