Application-Ready Platform offers SRAM memory backup.
Press Release Summary: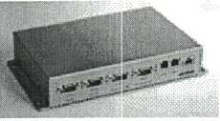 UNO-2160 incorporates Celeron 400 MHz processor and provides 2 embedded Operating Systems. Two PC/104 slots offer expansion possibilities and can be used for data acquisition or communication modules. Four serial ports and several other networking interfaces support diverse communications requirements. Platform can also be used as controller, communication gateway, or thin client. Watchdog timer and battery backed SRAM ensures safe storage of critical data.
---
Original Press Release:
Improved Performance and Extension Capacities with the New UNO-2160

Cincinnati, Ohio - The new UNO-2160 is an embedded application ready platform that shortens your development time. Its Celeron 400 MHz processor provides good performance, and the two PC/104 slots offer convenient expansion possibilities. The two PC/104 slots could for example be used for data acquisition or communication modules. Four serial ports and several other networking interfaces support diverse communication requirements. Moreover, UNO-2160 can be used as a controller, communication gateway or thin client. With a watchdog timer and battery backed memory, system reliability is further enhanced. Similar to the other members of the UNO-2000 family, UNO-2160 has a compact and fanless design, and is made for installation in a rugged environment.

New feature: SRAM memory backup

The 512 KB of battery backed SRAM ensures that you have a safe place to store critical data. With an LED alarm, it is also convenient to monitor that the battery is charged. You can now write software applications without being concerned that system crashes will erase critical data from the memory.

A powerful combination for maximum system reliability

The combination of battery backup for the SRAM and a watchdog timer means maximum system reliability. With process history stored in your SRAM, if your system should happen to crash, the
watchdog timer will reboot the system, and the process software can use the process histcry stored in SRAM to continue the process at the correct step. This automatic restart and memory storage of your running system processes ensure minimum interruption.

Application ready platform

The UNO-2160 provides two embedded Operating Systems, Windows® CE.NET 4.2 and Windows XP Embedded OS, which offer a pre-configured image with optimized onboard device drivers. Windows XP Embedded delivers the power of the Windows operating system in componentized form. You can seamlessly integrate your applications into Windows XP Embedded.

Advantech Automation is the leading global ePlatform service provider integrating web-based hardware and software technology,
solutions, and customization services that empower the connected eWorld. Advantech cooperates closely with systerm integrators to
help them add value to meet stringent requirements from customers in a wide array of industries. Advantech delivers more than 450 products and solutions under 4 main categories: industrial I/O and communication, computing platforms, single board and panel computers, along with peripherals and components. Drawing on the talents of more than 1,800 people, Advantech operates an extensive sales and marketing network in 16 countries and 35 major cities to deliver fast time-to-market services to our worldwide customers.

Please visit us at www.advantech.com/ia for more information, or email info@advantech.com, call our Call Center at: 877-294-8989.