Appliance facilitates unified communications for SMBs.
Press Release Summary: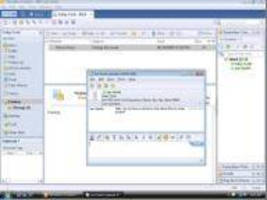 Combining unified communications and collaboration tools with ability to connect to telephony, Lotus Foundations Reach Appliance lets employees instantly access people and information. It offers IM, presence awareness, email, calendars, contacts, office productivity tools, remote access, file/print sharing, and backup and disaster recovery. Self-managing technology automates IT tasks such as adjusting workload demands, conducting proactive system checks, and detecting/repairing potential issues.
---
Original Press Release:

IBM Simplifies Unified Communications for SMBs



New solution and growing partner ecosystem up the ante against Microsoft

ARMONK, N.Y., July 15 /-- IBM (NYSE:IBM) today announced a new, self-managing, "office in a box" appliance for small and midsized businesses (SMBs) that combines all of the unified communications and collaboration (UC2) tools needed to run a business with the ability to connect to telephony, in a single solution. For smaller businesses with limited IT expertise, the solution reduces complexity and enables employees to instantly access people and information, resulting in increased efficiency, productivity and lower operating costs.

The new Lotus Foundations Reach solution customizes and extends the IBM Sametime UC2 capabilities in a single appliance designed specifically for SMBs that have limited IT skills and smaller budgets. In about an hour, a business can install and configure its entire UC environment in a system small enough to fit under a desk. Unlike competitive offerings, Foundations Reach minimizes the need for human intervention with self-managing technology that automates IT tasks such as adjusting to workload demands, conducting proactive system checks for security and reliability of the network, and detecting and repairing potential issues.

Lotus Foundations Reach enhances the user experience by reducing the complexities associated with deploying and managing communications and collaboration solutions. From one convenient platform, Lotus Foundations Reach combines key UC features such as instant messaging (IM), presence awareness to see who is online and available, email, calendars, contacts, office productivity tools, network security, remote access, file and print sharing, and backup and disaster recovery. The ability to access these capabilities from a mobile device makes it easier for users that travel or work remotely.

By communicating and collaborating virtually, SMBs can reduce costs by decreasing the need for travel, supporting remote workforces to cut down on office space, and decreasing long-distance telephone expenses with VoIP capabilities.

Many telephony partners are opting for IBM's open approach, which allows them to incorporate their products with IBM's to reduce the costs and complexity of IP telephony. This results in comprehensive communications solutions that were not previously available to SMBs. Lotus Foundations Reach enables telephony partners to extend IBM's self-managing capabilities and provide expanded features such as click-to-call, click-to-conference, the ability to see if someone is on the phone or not, and voicemail access.

"Until now, the complexity and cost of creating an IT solution combined with UC and IP telephony capabilities have been a deterrent for small businesses," said Caleb Barlow, director, Lotus Foundations, IBM. "With Lotus Foundations Reach, IBM enables telephony partners to combine their technologies with IBM's UC solution to create a comprehensive offering that is affordable and simple enough for the smallest of businesses to use."

From a single platform, Lotus Foundations Reach helps SMBs increase employee productivity and efficiency by enabling them to communicate in real time. For example, a small company that sells medical devices and has a remote sales force can speed product sales and delivery by instantaneously processing orders from Blackberry mobile devices.

The expanded Lotus Foundations platform builds on IBM's commitment to simplify the delivery of information technology for the SMB market. SMBs face many of the same IT challenges as enterprises, but do not have access to the skills or budgets to manage complex IT solutions. With Lotus Foundations Reach, SMBs have a complete set of collaboration tools to effectively run their businesses at a price they can afford.

IBM Foundations Reach is built on an open platform that enables and encourages partners to innovate and build upon IBM technology to deliver cost-efficient, flexible and easy to use solutions specifically designed for smaller businesses. This open strategy allows smaller businesses to expand without worrying about upgrade costs or requirements to purchase additional technology.

A growing number of business partners are choosing to build solutions based on Lotus Foundations:

-- EnVision Solutions LLC is combining IBM Lotus Foundations Reach with its current suite of applications to deliver an enhanced collaboration package of solutions for the SMB market.

-- NEC is creating a version of its UNIVERGE Sphericall communications software that can be downloaded to Foundations to create a complete UC and business collaboration solution specifically designed for SMBs and branch offices.

-- NextiraOne Mexico will extend Lotus Foundations Reach with its IP telephony technology to deliver a complete communications and collaboration offering to help growing businesses.

-- ShoreTel is incorporating its IP telephony platform with IBM Lotus Foundations Reach to provide a complete unified communications and collaboration solution designed specifically for SMBs.

-- Speech Design is combining its Fixed Mobile Convergence (FMC) solution with Lotus Foundations Reach to create a Mobile Unified Communications appliance, which offers telephony and presence, FMC, messaging, IM as well as audio and Web conferencing in a single solution for SMBs.

Challenging Microsoft with a Growing Partner Ecosystem

More than 1,000 Microsoft partners have turned to IBM to take advantage of Lotus Foundations' innovative design and open technology base. IBM's expansive unified communications and collaboration portfolio continues to attract partners looking for affordability, flexibility and ease of use. Each of these new business partners represents an opportunity for IBM to expand its reach into partner ecosystems, broadening the Lotus Foundations partner family.

IBM Lotus Foundations Reach will be available for purchase next month. For more information on the Lotus Foundations portfolio, visit: http://www.ibm.com/lotus/foundations.

CONTACT: Meredith Hannon, IBM Media Relations, +1-512-740-3285, merhannon@us.ibm.com

Web Site: http://www.ibm.com/lotus/foundations