Apollo Video Technology Honored with 2018 ASTORS Homeland Security Award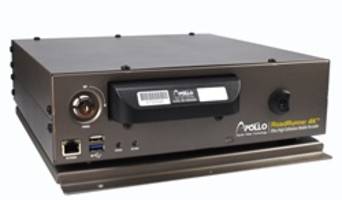 RoadRunner 4K™ System Earns Platinum Award as Best IP Video Surveillance Solution
BOTHELL, WASH. (PRWEB) NOVEMBER 27, 2018 - The RoadRunner 4K™ Mobile Video Surveillance System from LTG's Apollo Video Technology — a leading manufacturer of mobile video surveillance, fleet and information management solutions for mass transit, military and government applications — has been named a Platinum Award winner as Best IP Video Surveillance Solution in the 2018 ASTORS Homeland Security Awards.
The RoadRunner 4K system delivers exceptional camera clarity for transit buses and railcars, enabling agencies to have a clearer picture of activities on and around buses and trains. Robustly constructed for harsh mobile environments and wireless-ready, the system features state of the art H.265 compression and dual-streaming enabling months of on-board recording duration.
"The RoadRunner 4K system delivers unprecedented detail to transit surveillance video and furthers our efforts to provide the most technologically innovative and reliable transportation solutions to protect client assets, while promoting efficiency and safety for public service," said Rodell Notbohm, CTO of Luminator Technology Group.
With a resolution four times greater than 1080p, the RoadRunner 4K delivers better contrast with less pixilation. This enables operators to capture wide views and zoom in on specific areas with greater retention of detail than possible from images originating in standard high definition, meaning everything from license plates to facial features are clear and recognizable. These advancements in technology and video quality improve the accuracy of video analytics and support further expansion of Apollo Video's mSET Management Software with tools that not only enhance safety and provide video evidence, but increase efficiency and rider experience as well.
"The RoadRunner 4K system delivers on our promise to deliver intelligence, safety and efficiency to our transit partners and their passengers," said Rod Jones, LTG's President of Mass Transit North America. "The benefits our clients will gain with this new technology is a testament to the success of our team - with the majority of our more than 1,000 employees dedicated to research, development and engineering."
The Annual 'ASTORS' Awards, presented by American Security Today, are the preeminent U.S. Homeland Security Awards Program, and highlight cutting-edge and forward-thinking security solutions coming onto the market. The 'ASTORS' program is specifically designed to honor distinguished government and vendor solutions that deliver enhanced value, benefit and intelligence to end users in a variety of government, homeland security, enterprise and public safety vertical markets.
About Luminator Technology Group 
Luminator Technology Group (LTG), is a leading manufacturer of passenger communication systems, video surveillance, and lighting solutions for global mass transportation applications. The company, founded in 1928, leverages its extensive engineering resources to develop solutions that increase intelligence, safety and efficiency for bus, rail and aerospace operations worldwide.
Contact Information
April Johnson
Apollo Video Technology
http://www.apollovideotechnology.com/
+1 (425) 483-7100 Ext: 121