Apollo-AC Electric Piston Pump™ requires low maintenance.
Press Release Summary: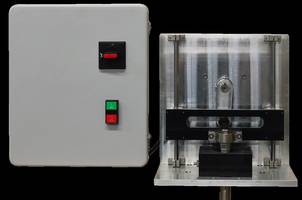 Apollo-AC Electric Piston Pump™ is offered in 101 and 102 models. These units are equipped with 3/8 HP, 24v DC motor that can be installed at any angle horizontal. Model 101 is operated at depths of 122 m with flows of 4.1 lpm whereas 102 at depths to 53.3 m and flows up to 10.2 lpm.
---
Original Press Release:
Blackhawk's New Apollo-AC Electric Piston Pump: Simplicity, Reliability & Value at Lower Prices
Convenience & constancy of 24/7 grid power with lower amp draws
Blackhawk Technology Company, the industry's pumping-innovation leader for more than 25 years, introduces a new line of low-profile electric piston pumps for applications not requiring the performance metrics of Blackhawk's popular Anchor Electric models.
The Apollo-AC Electric Piston Pump™ is designed in response to customers' desire for a grid-power version of the highly regarded Apollo Solar Piston Pump™ and its simple, linear-rod driver.
In addition to lower prices and lower amp draws, the Apollo-AC combines the convenience and constancy of 24/7 grid power with the reliability, low maintenance and easy installation that define Apollo pumps. Model 101 operates to depths of 400 feet (122 m) with flows to 1.1 gpm (4.1 lpm). Model 102 offers flows to 2.7 gpm (10.2 lpm) at depths to 175 feet (53.3 m).
As with other Blackhawk top-head-drive piston pumps, all power and driver mechanical components are cleanly and safely above the wellhead. There is no high-pressure air or electricity introduced below surface grade. The pumps, which are not affected by changes in differential pressure either in the bore or on the surface, are environmentally friendly and do not emit greenhouse gases.
The Apollo-AC Electric employs a 3/8-hp, 24v DC motor operating from converted AC grid electricity. The unit can be installed at any angle to horizontal and pumps virtually anything flowable.
Blackhawk Technology Company is the originator and the No. 1 manufacturer of above-wellhead, positive-displacement piston pumps – leading-edge technology refined by 25 years of customer-driven improvements. Blackhawk continues to introduce innovative products to the industry's most comprehensive line of electric, pneumatic and solar piston pumps and pump supplies, all designed to withstand the harshest weather and downhole pumping environments.
Founded in 1990, the company originated landfill and groundwater remediation piston pumps now covered by several patents and marks, with others pending. No company offers more real-world piston-pumping experience in tough landfills, chemical facilities, hydrocarbon production and remediation sites throughout North and South America, Europe, Asia, Africa and Australia.
To learn more and see how a piston pump operates, visit www.blackhawkco.com or call 630-469-4916.
More from Machinery & Machining Tools