APM Develops 3 New Products to Help Make Workplace More Secure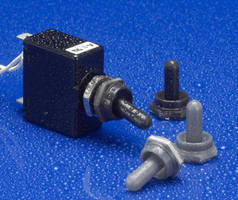 Englewood, New Jersey – APM HEXSEAL announces the release of 3 new products that are innovating the industry.



1. 3/8" Diameter Bushing Seal for Sealed Switch Panel Mounting Hole (60065)

A new product to protect against and prevent seepage/leakage through switch panel cutout While other sealed switches are designed to tolerate hostile environments, they typically do not seal the panel cutout in which they are mounted. This new product is designed to prevent contaminants to leak past the bushing through the panel cutout, protecting equipment and system failures.

2. Inverted Bellow Toggle Switch Boot (1131/60) A new product to stop tripping a breaker/switch, a finalist in Design News' 2013 Awards This product is quickly gaining popularity with our clients and the critics! This product has garnered us the title of finalist in Design News' annual Golden Mousetrap Awards in the Materials Assembly: Fastening, Joining and Assembly Components category. This product avoids unintentionally tripping a sensitive breaker/switch into the on/off position.

3. Grab it and Go Self-Sealing Fastener Kits (in 4 size ranges) As an answer to portability and convenience for our customers 4 kits including our most popular SEELSKREW® / Seeloc® sizes. They're UL Recognized, tested and listed to UL Standard 50, types 1-13.



APM HEXSEAL patented the original circuit breaker seal and associated electromechanical switch sealing boots over 60 years ago. They are used extensively by the military, marine, industrial, construction and commercial industries around the world.



For literature and samples contact: APM HEXSEAL, 44 Honeck Street, Englewood, NJ 07631. Tel: 1-800-498-9034. web: www.apmhexseal.com.

More from Cleaning Products & Equipment