APEX 30M Wire Feeder comes with digital controls.
Press Release Summary: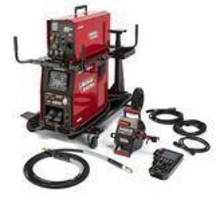 Controlling and monitoring processes for consistency and logging data for reporting and archiving needs, APEX 30M controller/wire feeder can be combined with HELIX® M85 orbital weld head and Power Wave® S series welder to create versatile solutions. Eliminating additional equipment, like cranes and fixtures, feeder simplifies cable management and can be located 100 feet above welding power source. Applications include power generation and construction.
---
Original Press Release:
Portable APEX 30M Controller/Wire Feeder from Lincoln Electric Simplifies Job-Site Setup
Lightweight and portable, the new APEX® 30M mechanized controller for orbital welding from Lincoln Electric offers digital control and wire feeding packaged as a single unit. The APEX 30M can be located up to 100 feet (30.5 m) from the welding power source while still giving the operator full system access through the pendant, making this controller a completely versatile solution for field and shop applications.

The APEX 30M controls and monitors processes for consistency and logs data for reporting and archiving needs in a variety of applications – structural, maritime, power generation, process piping and construction.

Operators can combine the APEX 30M with a HELIX® M85 orbital weld head and a Power Wave® S series welder or Vantage®/Air Vantage® ArcLink® enabled engine driven welder/generator to create a completely versatile solution. On the job, this compact unit eliminates additional equipment, such as cranes, fixtures and platforms and simplifies cable management for easy portability. And, it requires minimal setup.

"The APEX 30M mechanized controller, designed with the operator in mind, can be located up to 100 feet from the welding power source allowing the operator to focus on the weld, not the equipment," states Carlos Richmond, Product Manager of Mechanized Automation. "The new system offers portability and versatility of use and greater efficiency for achieving superior orbital MIG welds."

Available accessories include the APEX operator pendant, Power Wave Advanced Process Module, Power Wave STT® Process Module and the HELIX Quick Release Track Ring and Shoe Extensions.

Learn more about Lincoln Electric's portable APEX 30M Controller/Wire Feeder at FABTECH 2016, North America's largest metal forming, fabricating, welding and finishing event. Visitors can see new products and welding demonstrations at booth N5200, Nov. 16-18, at the Las Vegas Convention Center.

Lincoln Electric is the world leader in the design, development and manufacture of arc welding products, robotic arc welding systems, plasma and oxy-fuel cutting equipment and has a leading global position in the brazing and soldering alloys market. Headquartered in Cleveland, Ohio, Lincoln has 48 manufacturing locations, including operations and joint ventures in 19 countries and a worldwide network of distributors and sales offices covering more than 160 countries. For more information about Lincoln Electric and its products and services, visit the Company's website at http://www.lincolnelectric.com.

Media Contacts:

Robin Suttell – rsuttell@fallscommunications.com or 216.696.0229
Greg Coleman – greg_coleman@lincolnelectric.com or 216.383.2462

Members of the media may access this release, register for RSS communication and more at newsroom.lincolnelectric.com.
Related