Anytime, Anyplace, Anywhere Quick Mounting Metal Keyboard Solutions from EAO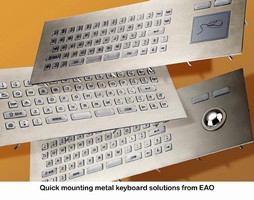 EAO, the expert partner for rugged, industrial keypads and keyboards offers a simple top mounting metal keyboard that can be integrated onto any surface type. EAO's rugged W.series keyboard is delivered in a single integrated unit for easy installation.

EAO's robust W.series keyboards are constructed from brushed stainless steel and feature chromed Zamac (zinc alloy) anti-pull off keys. The contemporary design of EAO's rugged keyboard is both aesthetically pleasing and tough. Operators of EAO metal keyboards benefit from a tactile, reassuring, smooth key action, like a normal PC keyboard. With environmental protection of IP67 and shock resistance of IK09, EAO's rugged keyboard is ideally suited to public service environments such as information and multimedia terminal applications, including libraries, retail stores, industrial environments and internet kiosks.

EAO's W.series metal keyboard is available with a choice of two interfaces: PS2 and USB. The keyboard layout is offered in 10 standard languages with other languages available upon request. Additional features include high definition laser engraved markings on the keys, which will not corrode or wear off. If required, EAO can also engrave the front plate.

EAO also has the technology to create custom-specific layouts upon request, as well as incorporating shortcut keys such as 'www', '.com' and '@'. EAO's rugged W.series keyboard is available with or without a large choice of cursor control devices: a touch pad or a plastic, stainless steel or optical trackball. EAO's high quality and reliable W.series keyboards are readily available with pricing starting at slightly over $200.00 per unit in small quantities.

For more information on our W.series keyboards, visit our web site at www.eaoswitch.com or contact EAO at 98 Washington Street, Milford, CT 06460; Telephone: 203-877-4577; Fax: 203-877-3694. Send E-mail inquiries to sales@eaoswitch.com.

More from Electrical Equipment & Systems