Anybus Gateways facilitate PROFINET migration.
Press Release Summary: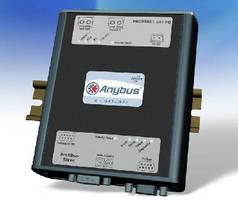 With Anybus X-gateways, plant owners and machine builders can migrate to PROFINET without making changes to existing machinery. Units can connect PROFIBUS and CANopen to PROFINET IRT with fiber optics, and ControlNet, EtherNet/IP, and DeviceNet to PROFINET IRT with copper cabling. PROFINET interface supports up to 220 bytes of I/O for both input and output data. With baud rate of 100 Mbps, gateway uses two RJ45 connectors or two SC-RJ connectors, allowing installations in line or ring topology.
---
Original Press Release:

PROFINET Migration Made Easy with New Anybus X-gateways from HMS



HMS Industrial Networks has released a series of new Anybus X-gateways that enable communication between several industrial networks and PROFINET IRT. The new X-gateways can connect PROFIBUS and CANopen to PROFINET IRT with fibre-optics, and ControlNet, EtherNet/IP and DeviceNet to PROFINET IRT with copper cabling. The new X-gateways help plant owners and machine builders to migrate to PROFINET without making changes to their existing machinery.



Many industrial companies are today implementing industrial Ethernet networks like PROFINET. However, there are often existing subsystems and machinery which are already networked and need to be included in the new networks. Anybus X-gateways from HMS offer an easy way to connect existing subsystems to PROFINET.



What's new?

Anybus X-gateways have long been able to connect PROFINET to several fieldbus and industrial Ethernet networks. HMS now extends the connectivity to cover PROFINET IRT (Isochronous Real Time) for both copper cabling and fibre-optics. New networks for copper are ControlNet, EtherNet/IP and DeviceNet while new networks for fibre optics are PROFIBUS and CANopen.



Making PROFINET migration possible

PROFINET IRT is used by many large European car manufacturers, most notably those within the AIDA group, and is one of the fastest growing industrial Ethernet networks on the market, says Niklas Selander, product Manager at HMS. By using an Anybus X-gateway plant owners can keep existing equipment and simply connect it to PROFINET IRT networks. This maximizes the investment in their current machinery and speeds up the migration to PROFINET. Machine builders also benefit as they do not have to develop this connectivity themselves and can just use an Anybus X-gateway to connect their machines to PROFINET IRT.



How it works

The new Anybus X-gateways copy I/O-data between any industrial network and PROFINET IRT. Gateway settings regarding, for example, I/O sizes are configured in a Windows-based terminal interface which means no programming is necessary.



The PROFINET interface of the X-gateway works as an I/O-Device on the PROFINET IRT network and supports up to 220 bytes of I/O for both input and output data. The gateway's baud rate is 100Mbit/s (full duplex) and uses two RJ45 connectors (copper) or two SC-RJ connectors (fibre-optic) allowing installations in line or ring topology. The integrated 2-port IRT switch is another very valuable asset, as it eliminates the need for expensive external switches. The new Anybus X-gateways enable communication between PROFINET IRT and several industrial

networks. In this image PROFIBUS.



What is an X-gateway?

Anybus X-gateways allow two different networks to talk to each other. In simple terms you could say that it is a real-time translator between any two networks. Gateways solve important industrial communication issues for system integrators and end users working with industrial network design, and offer a quick and easy way to connect two otherwise incompatible networks.



HMS Industrial Networks is the leading independent supplier of embedded network technology for automation devices. HMS develops and manufactures solutions for interfacing automation devices to industrial networks. Development and manufacturing takes place at the head office in Halmstad, Sweden.



Local sales and support is provided by the HMS branch offices in Chicago, Beijing, Karlsruhe, Milan, Mulhouse and Tokyo. HMS employs over 240 people and reported sales of Euros42.5 million in 2011. HMS was formed in 1988 and is listed on the NASDAQ OMX Nordic Exchange in Stockholm in the category Small Cap, Information Technology with ISIN SE0002136242.



HMS Industrial Networks Inc

35 E Wacker Drive, Suite 1700 IL 60601 Chicago

www.anybus.com

DEPARTMENT SALES

Phone: +13128290601

Fax: +13126292869

us-sales@hms-networks.com



HMS Industrial Networks

Stationsgatan 37

30245 Halmstad

Sweden

www.anybus.com

Michela NALIN

Phone: +46 351729 93

Fax: +46 351729 09

min@hms.se



More from Sensors, Monitors & Transducers