Antiquing Concentrate works on various metal surfaces.
Press Release Summary: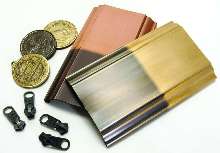 Suited for producing brown and black finishes, M25 Antique Black® may be used on copper, brass, and bronze alloys as well as zinc die castings and zinc plated surfaces. Product, mixed with water at 10-20%, is suited for blackening or browning copper and brass alloys. Mixed at 5-10%, product is suited for blackening zinc. It works at room temperature, forming tightly adherent conversion coating with immersion times from 30 sec to ~3 min.
---
Original Press Release:

Birchwood Casey Announces M25 Antique Black® Multi-Metal Antiquing Concentrate


Eden Prairie, Minnesota: Now there's one antiquing concentrate available for blackening and browning many different metals such as jewelry, apparel accessories, and door and window components. It's called M25 Antique Black® and it's ideal for all copper, brass & bronze alloys, as well as zinc die castings and zinc plated surfaces.

M25 Antique Black makes multi-metal finishing simple and easy. No need to resort to several different solutions for different metal surfaces. Birchwood Casey's new M25 Antique Black does it all, producing an attractive range of brown and black finishes on both solid and electroplated surfaces. It represents a new option for finishers who work with both copper & brass and zinc alloys.

The M25 Antique Black concentrate is mixed with water at 10-20% for blackening or browning copper & brass alloys, and at 5-10% for blackening zinc. The product works at Room Temp and forms a tightly adherent conversion coating, with immersion times ranging from 30 seconds to about 3 minutes, depending on the depth of color desired. M25 Antique Black can be used in any size finishing operation and is easy to control by simple titration. No ventilation required. Its high coverage per gallon leads to low operating cost and consistent colors from batch to batch.

M25 Antique Black is available in 5 and 55 gallon plastic, non-returnable drums.

Want more information?
See at www.birchwoodcasey.com
Email: info@birchwoodcasey.com or call 952-937-7931 for Free Brochure.
Or write to Birchwood Casey, 7900 Fuller Road, Eden Prairie, Minnesota 55344-9702. Fax: 952-937-7979.