Antimicrobial Cord Reel prevents trip hazards in hospitals.
Press Release Summary: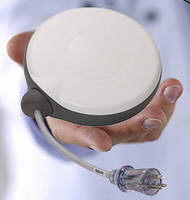 Intended for use in hospitals and medical device industry, CE-marked DuraReel uses plugs and cord wire that comply with to every European standard. This power cord reel, made from readily cleanable plastic, has high-impact case and 10 ft of retractable cord. Ability to securely lock cord at any desired length helps prevent trip hazards, and all contact surfaces – housing, ball stop, retractable cord, plug – are molded with antimicrobial additive to protect against mold, mildew and odor.
---
Original Press Release:
Unique Cord Reel Prevents Trip Hazards in Hospitals
Cord reel manufacturer Hunter Spring recently introduced its state-of-the-art DuraReel power cord reel specifically for use in hospitals and the medical device industry where adherence to the highest standards is crucial.

With the recently obtained CE mark and the use of plugs and cord wire that live up to every European standard, the DuraReels are now available to countries outside US.

The DuraReel cord reel is made from an easy-to-clean plastic and features a beautiful, high-impact case along with 10 feet of retractable cord.

Prevents Trip Accidents
The aesthetic design and the ability to securely lock the cord at any desired length makes the DuraReel ideal for use in operating theatres, recovery rooms, hospital wards or any other place at a hospital where an extension cord is needed but a regular cord can present a trip hazard.

Ideal for Mobile Workstations
The DuraReel power cord reel is a perfect complement to mobile equipment such as mobile x-ray carts, mobile lighting carts, telemedicine carts, and other types of mobile workstations offering an ergonomic solution to power and data cable management needs.

First Antimicrobial Solution on the Market
As the only cord reel on the market the DuraReel have been tested specially in environments containing Escherichia Coli (E Coli) and Staphylococcus Aureus (Staph) microorganisms.

All contact surfaces, such as the housing, ball stop, retractable cord and plug, have been molded with an antimicrobial additive to protect the cord reel from mold, mildew and odor. The antimicrobial additive will not wash off or diminish over time.

Quality You Can Rely On
To obtain the high, long lasting quality that Hunter Spring products are known for, the DuraReel is manufactured at Hunter Spring's own plant based in the United States using only the best materials on the market.

Hunter Spring is a unit of Ametek Sensors, Test & Calibration. It offers a full range of power cord reels, springs and other reel products and has many industry firsts throughout its history. The DuraReel power cord reel is the latest innovative industry first from Hunter Spring.

Learn more about Hunter Springs at www.hunterspringandreel.com
More from Software