Antimicrobial-Coated Steel suppresses growth of bacteria.
Press Release Summary: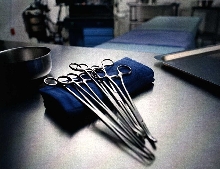 Flat-rolled stainless and carbon steels are coated with AgION antimicrobial compound to suppress growth of destructive microbes including bacteria, molds, and fungi. Compound is blended into epoxy paint system and then applied to steel products by continuous coil coating. Paint is available as clear, tinted, and pigmented coating. Steel is available up to 60 in. wide in 0.018 to 0.060 in. gauges., and up to 48 in. wide in gauges from 0.060 to 0.075 in.
---
Original Press Release:

AK Steel Introduces Stainless and Carbon Steels Coated with AgION(TM) Antimicrobial Coating


Antimicrobial-Coated Steel Deters Growth of Destructive Microbes, Provides Added Measure of Cleanliness

MIDDLETOWN, OH-January 8, 2002-As the demand for antimicrobial products increase, AK Steel, the nation's leading integrated steel company, introduces antimicrobial-coated steel. AK Steel's flat rolled stainless and carbon steels coated with the AgION antimicrobial compound suppress the growth of a broad array of destructive microbes including bacteria, molds and fungi.

"Studies have shown that consumers want microbe-resistant products," said Richard M. Wardrop, Jr., chairman and chief executive officer of AK Steel. "AK Steel's full line of antimicrobial-coated steels represent one cost-effective way for manufacturers to meet this demand and help inhibit the growth of damaging bacteria." The AgION antimicrobial compound is blended into an epoxy paint system and then applied to AK Steel products by continuous coil coating. The paint is available as a clear, tinted or pigmented coating. AK Steel offers antimicrobial-coated carbon and stainless steel products up to 60 inches wide in gauges from .018 inches to .060 inches. Products are also available up to 48 inches wide in gauges from .060 inches to .075 inches. Heavier gauge coating capabilities are being developed.

Antimicrobial-coated steel can benefit many industries and applications:
* Construction: Bringing steel benefits and an added measure of cleanliness to surfaces, pushplates, kickplates, towel dispensers, doors, escalators, elevators, wall panels, light fixtures and bathroom components
* Food Equipment: Microbe-resistant serving trays, salad bars, walk-in refrigerators, coolers, display cases, serving counters and food preparation surfaces
* Food Processing: Cleaner trays, racks, food processing systems and storage tanks
* Appliances: Providing antimicrobial benefits to refrigerators, washers, dryers and dishwashers, diminishing the appearance of fingerprints.
* Medical Equipment: Enhancing instrument trays, sterilization equipment, bedpans, counter tops, examination tables, carts and beds
* Heating/Ventilation and Air Conditioning (HVAC): Addressing air-handling systems, including ductwork, fans, drip pans and diffusers.

The antimicrobial-coated steels are durable and can be effective in a variety of applications. It can be coated on one or both sides, as well as formed or bent. It maintains effectiveness over a wide range of temperatures and pH values.

The AgION antimicrobial compound is a long-lasting, inorganic material that contains silver ions-a safe and natural antimicrobial agent. The compound has two key components working together to suppress the growth of microbes:
* Silver Ions - the active agent
* Zeolite - acting like a cage, it stores the silver ions and releases them

When moisture is present, the zeolite acts as an ion pump providing controlled release of silver ions into the environment. This controlled release provides continuous antimicrobial protection for the product. As humidity increases, and the environment becomes ideal for bacterial growth, more silver ions are released.

Regulatory and Industrial Registrations and Certifications
AK Steel's antimicrobial-coated steels are long lasting and durable. The Food and Drug Administration (FDA) has registered the AgION antimicrobial compound for use as an additive in food contact polymers. The National Sanitation Foundation (NSF) has certified the compound as safe and acceptable for product zone and food zone applications. The Environmental Protection Agency (EPA) registered the use of the AgION antimicrobial compound in HVAC systems. And Underwriter's Laboratories (UL) has tested antimicrobial-coated galvanized steel using UL Standard 723. Smoke and flame spread from testing was virtually zero.

To illustrate the benefits of antimicrobial-coated steels, AK Steel is helping build a concept home outside Los Angeles, Calif. Several applications will utilize AK Steel's new product including the HVAC system and "high-touch zones" throughout the home-from appliances, handrails and doorknobs to faucets, food preparation surfaces and a 6,000-bottle wine cellar. In total, about 30,000 pounds of various AK Steel products will be utilized in the 11,000-square-foot home. More information about the concept home is available at akconcepthome.com.

With headquarters in Middletown, Ohio, AK Steel produces flat-rolled carbon, stainless and electrical steel products for automotive, appliance, construction and manufacturing markets, as well as standard pipe and tubular steel products. AK Steel employs about 11,500 people in plants and offices in Middletown, Coshocton, Mansfield, Warren, Walbridge and Zanesville, Ohio; Ashland, Kentucky; Rockport, Indiana; and Butler, Sharon and Wheatland, Pennsylvania. AgION antimicrobial is not intended as a substitute for good hygiene. Coated products must still be cleaned to insure the surfaces will be free of destructive microbes, AK Steel makes no representations or warranties, express or implied, as to the efficacy of AgION antimicrobial, which is a registered trademark of AgION Technologies, LLC.


More from Packaging Products & Equipment