Anti-Whiplash System is contained within head restraint.
Press Release Summary: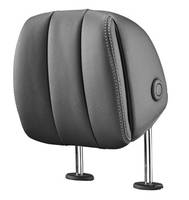 Designed to reduce impact of whiplash injury in rear-end collisions, anti-whiplash system addresses IIHS concerns by aligning head with cervical spine. It uses electromagnetic actuator to release pre-stressed springs that simultaneously pivot headrest while pushing it forward. Independent of seatback frame, headrest houses 2 coil springs, plastic headrest housing, electromagnetically-activated plate, and wiring.
---
Original Press Release:
Grammer Head Restraints Answer IIHS Concerns
TROY, Mich. - Grammer AG - Automotive, a supplier of specialty automotive seating systems, has developed a second generation of electronically-activated head restraints. The new system reduces the impact of whiplash injury in rear-end collisions by moving the head restraint forward. Grammer's anti-whiplash system is completely contained within the head restraint. Unlike the earlier version that is deployed by a gas generator cartridge, the newer model uses an electromagnetic actuator to release pre-stressed springs that simultaneously pivot the headrest while pushing it forward. A recent Insurance Institute for Highway Safety (IIHS) report reveals that few head restraints are designed to sufficiently align the head with the cervical spine to prevent serious injury. Auto-related neck injuries in the U.S. result in $7 billion annually in insurance claims. The study notes that of the 73 seat/head restraints dynamically tested by the IIHS, only eight earned "good" overall ratings, 16 were rated "acceptable" and 19 were "marginal." "It's obvious that some automakers are doing a better job than others of designing seats and head restraints to protect their customers' necks in rear crashes," says Adrian Lund, chief operating officer at the IIHS. "Grammer's second-generation active head restraint system can answer the issues identified by the IIHS testing," says Juergen Huertgen, vice president of sales and marketing for the Americas. "Unlike the earlier pyrotechnic system used exclusively in the BMW 5 and 7 Series vehicles, the unit is completely contained within the headrest and is independent of the seatback frame." The headrest houses two coil springs, a plastic headrest housing, an electromagnetically-activated plate and wiring. The two coil springs push the headrest forward after receiving a signal from the vehicle's crash sensor. The new electromechanical system weighs only 350 grams (12.3 ounces), about half the weight of the earlier system. Grammer AG is a world leader in the development and manufacture of innovative components and systems for automobile interiors. Wherever people use vehicles, Grammer, based in Amberg, Germany, sets the standards for security, comfort and ergonomics. Automotive is the company's largest division and supplies headrests, armrests, center consoles and integrated child booster seats to vehicle manufacturers and their tier 1 systems suppliers. The company's second division, Seating Systems, provides driver seats for heavy trucks and off-road vehicles (tractors, construction machinery, fork-lifts) as well as passenger seats for trains and buses. Grammer Seating Systems is active both as a first-time supplier and as a retrofitter. As a global player, the Grammer Group operates with a strong customer focus that includes location of development and production facilities close to clients and relies on an international network of partners. In fiscal 2003, Grammer Group sales were $992 million; North American sales totaled $145 million. With over 7,500 employees, Grammer and its 20 consolidated companies operate in 13 different countries worldwide. Additional information is available on the Internet at www.grammer.com.
More from Electrical Equipment & Systems