Anti-Spyware Appliance provides centralized control.
Press Release Summary: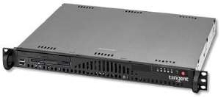 Suited for education and government IT departments, Packet Hawk provides hands-free, network-wide protection against spyware from central management console. It automatically finds, removes, and blocks spyware, adware, pop-ups, malware, games, Instant Messaging clients, and P2P tools. Rack-mountable, 1U unit installs small software client on each desktop, which initiates scheduled scans and enforces real-time monitoring rule sets.
---
Original Press Release:

Tangent Ships Packet Hawk Enterprise Anti-Spyware Appliance


Low Cost, Centralized Spyware Solution for Education and Government Markets

BURLINGAME, CA, (April 7, 2005) - Education and Government IT departments are now able to provide hands-free, network-wide protection against Spyware from a central management console, thanks to a simple anti-spyware appliance from Tangent called Packet Hawk.

Packet Hawk which began shipping in March, automatically finds, removes and blocks Spyware, Adware, Pop-ups, Malware, Games, Instant Messaging clients, P2P tools and a host of other security threats from a central management console. With this hands-free solution, administrators do not have to touch each PC or download updates. Desktops across the entire network are automatically updated. This can save organizations tens of thousands of dollars annually.

Prices start at $1,495 for the appliance and software. Once installed, the cost per user is less than $1 per desktop per year, dependant on the number of desktops.

Besides low cost, the primary benefit of Packet Hawk is that Spyware control is centralized and easily managed from a simple network appliance. The appliance automatically installs a small software client (10K) on each Desktop. This client initiates the scheduled scans and enforces real-time monitoring rule sets. Unlike most current solutions, IT departments don't have to manage each desktop or pay for individual user licenses.

Packet Hawk is a rack mountable 1u network appliance that installs easily into any standard rack mount enclosure on any Windows network. Automated reports notify the administrator of what is found and removed. Definition Updates are provided as part of this automated process. Real-time monitoring stops future infections from occurring. Once installed, Packet Hawk provides up-to-date protection with simple hands-free administration.

"Spyware and Malware infections are a constant threat to corporate, educational and public sector networks." stated Doug Monsour, President and CEO of Tangent. "Packet Hawk delivers an enterprise anti-Spyware solution that is cost-effective and easy-to-use. The savings in administrator time quickly repays for the investment."

Packet Hawk is available direct from Tangent at packethawk.com or at www.tangent.com

About Tangent Inc. Founded in 1989, Tangent has 16 years experience, focused on delivering technology solutions to Education and Government. Customers include more than 350 universities and colleges, 2,490 school districts, and 430 government agencies. Tangent solutions include Spam filtering, Active Directory tools for schools, Migration services, and SIF integration.

Tangent's award-winning technology including desktops, notebooks, wireless labs, thin clients, and servers have earned numerous honors including eight Editor's Choice awards from PC Magazine, Recommended Product awards from Windows Magazine, and Best Buy awards from PC World.

For more information, contact Mike Zabaneh, 650-342-9388 ext. 1126, or email mikez@tangent.com.

©2005 Tangent, Inc. All rights reserved. Tangent and the Tangent logo are registered trademarks.

More from Machinery & Machining Tools