Anti-Shock Components double as emergency food source.
Press Release Summary: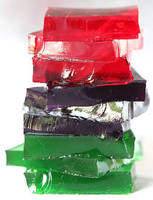 Designed to reduce vibration and optimize equipment stability, Gell-Low Anti-Vibration Shock Mounts are created from recycled bovine by-products and produced in variety of sizes. Compression-mounted vibration isolators are also suitable for mounting under mobile cameras on drones and for isolating vibration in UAV applications. Available in red (strawberry), green (lime), and black (liquorice), products can also function as emergency food source for disaster conditions.
---
Original Press Release:

Saelig's Novel Anti-shock Components Isolate Vibration; Double as Emergency Food Source



GelloFairport, NY. -- Saelig Company Inc. has introduced Gell-Low, a series of novel bovine-based anti-vibration shock mounts, designed to reduce vibration and improve equipment stability and life. Also suitable for mounting under mobile cameras on drones, these flexible parts, created from recycled bovine by-products, are produced in a variety of sizes and three colors: red (strawberry), green (lime), and black (liquorice). A secondary beneficial aspect of these impact isolators is their function, if needed, as an emergency food source for disaster conditions.



Since 1988, Saelig's engineers have been using their vast experience to solve all types of test and control problems, and now have turned their attention to solving pervasive shock and vibration control problems with Gell-Low Vibration Isolators ("Jiggles"), Gell-Low shock mounts ("Wobblers"), and other Gell-Low anti-vibration products. Saelig's engineers have selected just the right colors and have extensively taste-tested the flavors that will find universal use and demand. In the past, Saelig has supplied solutions for a diverse variety of industries including R&D, quality control, education, power generation, vehicle manufacture, military, agriculture, industrial equipment, medical, and HVAC - and now for emergency situations.



An anti-vibration mount can reduce the level of noise and vibration frequency caused by everyday machinery. Gell-Low vibration isolators are compression-mounted to reduce vibration and shock in portable equipment, and protect moving parts from damage. The elimination of vibration, while absorbing energy can protect a wide range of components and devices from shock and possible destruction. Gell-Low isolators can be helpful for isolating vibration in UAV (Unmanned Aerial Vehicle) applications like quadcopters. Because there is significant vibration caused by turbulence and the propulsion of the system itself, vibration damping like that offered by Gell-Low is crucial for obtaining smooth camera footage.



Additionally, these shock mounts emit their design aromas (strawberry/lime/ liquorice) to mask any offensive machine or oil odors. These tasty yet practical Gell-Low anti-vibration/emergency food products are produced in a variety of sizes and shapes but can be sliced to suit various needs or tastes. They have a shelf-life of more than 10 years and are sure to find wide acceptance and satisfy many engineering needs, including the hunger for the latest technology.



They are not available now from Saelig Company, Inc. since it is April 1st. For detailed specifications, free technical assistance, or additional information, please contact Saelig 888-7SAELIG, via email: info@saelig.com, or visit www.saelig.com.



About Saelig Company Inc.

Founded in 1988 in Rochester, New York, Saelig is a North American distributor with a growing reputation for finding and sourcing remarkable, unique test and measurement and control products and components for use in a wide variety of industries. Products lines are continuously added from sources across the globe, and are offered at competitive prices, accompanied by full in-house technical support, exceptional customer service, and fast delivery. For full details of available product lines, please visit www.saelig.com.



Contact Information

Email: info@saelig.com

Phone / Fax: 585-385-1750  / 585-385-1768

Web: http://www.saelig.com



More from Electronic Components & Devices