Anti-Seize Compound is formulated for continuous use.
Press Release Summary: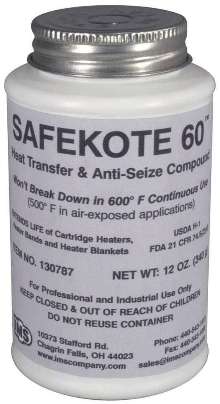 SAFEKOTE 60(TM) heat transfer and anti-seize compound has base carrier that remains intact at 600°F on cartridge heaters and on threads and at 500°F when exposed to air in heater bands. Available in 12 oz jars with brush top lid, product ensures consistent heat transfer and has anti-seize properties suited for threads on end cap bolts, screw tips, and nozzles. Even at temperatures above 600°F, base does not cement cartridge heaters or damage heater bands.
---
Original Press Release:
The Only Affordable, High Heat Compound - For Continuous Use Up To 600° F
February 2004 Chagrin Falls, Ohio...IMS Company is pleased to announce the first affordable Heat Transfer and Anti-Seize Compound formulated for continuous use up to 600° F with cartridge heaters and on threads. For air-exposed heater bands, the continuous-use temperature is over 500° F. IMS SAFEKOTE 60(TM) ensures consistent heat transfer; cuts energy costs; prolongs heater life and facilitates heater removal. Anti-seize properties also make SAFEKOTE 60(TM) ideal for threads on end cap bolts, screw tips and nozzles. The base carrier remains intact at 600° F on cartridge heaters and on threads, and at 500° F when exposed to air in heater bands. The base carriers of competing products break down above 350° F - causing premature heater band failure and cementing cartridge heaters to the nozzle - to be removed only with a drill. With IMS SAFEKOTE 60(TM), even at temperatures above 600° F, the base does not cement cartridge heaters or damage heater bands. SAFEKOTE 60(TM) (IMS Item No. 130787) is sold in 12 ounce jars with brush top lid. It is priced at just $9.00 per jar and is only available from IMS. For more information, send an e-mail to sales@imscompany.com or contact: IMS Company, 10373 Stafford Road, Chagrin Falls, Ohio 44023-5296. Phone: 800.537.5375, Fax: 888.288.6900. About IMS Company IMS Company, headquartered in Chagrin Falls, Ohio, has been providing accessory equipment and supplies to the plastics processing industry for over 50 years. The company specializes in helping customers find innovative solutions to all types of plastics processing problems. In addition to providing quality molding accessories, equipment and refurbishing services, IMS offers a toll-free hotline for engineering and technical support. www.imscompany.com ORDER LINE: 800.537.5375 TECH-SUPPORT TOLL-FREE HOTLINE: 866.IMS.9001
Related