Anti-fraud Printing Solution targets pharmaceutical industry.
Press Release Summary: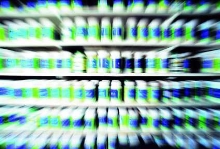 RxTrackNSecure(TM) package of anti-counterfeiting and anti-fraud printing and packaging services guard against pharmaceutical product fraud. Offerings include holographic label coatings, taggants with supplied UV or IR for high security applications, and random serialization. Tamper evident packages constructed of frangible material can be provided, as well as security printing with microtext printed with reactive inks. Up to 20 layer watermarks are also available.
---
Original Press Release:

New Jersey Packaging Introduces RxTrackNSecure(TM) at Interphex 2005


Comprehensive package of anti-counterfeiting and anti-fraud products designed to offer wide range of reliable options for brand protection

FAIRFIELD, NJ - New Jersey Packaging, a dedicated partner for pharmaceutical printing solutions, will introduce RxTrackNSecure(TM), its comprehensive package of anti-counterfeiting and anti-fraud technologies at Booth # 1982 at Interphex 2005, April 26-28 at the Jacob K. Javits Convention Center in New York, NY.

According to Dr. Narendra R. Srivatsa, Business Development Manager/Brand Identification for New Jersey Packaging, RxTrackNSecure(TM) and its protective products make use of the latest technology in anti-diversion, anti-counterfeiting and anti-fraud printing methods to provide durable, easy-to-apply, and relatively affordable ways to guard against pharmaceutical product fraud and maintain consumer confidence and safety.

"As part of our single-source printing solutions for pharmaceutical manufacturers, we can now provide single-source protection with materials such as integrated micro-printing, holography, color-shifting inks, varnishes, taggants, frangible papers, and digital watermarks," he said. "The strength of these products lies in their ability to be simply integrated into existing processes, while helping to safeguard the good name of the manufacturer and promote healthy lives for their customers."

New Jersey Packaging RxTrackNSecure(TM) offerings include:

Holography - Featuring specialized coating technologies, New Jersey Packaging's holography for pharmaceutical companies can be embedded images that can include messages, barcodes, photographs, and more. Since holography is difficult to counterfeit, it is currently being used by the U.S. government to protect sensitive documents.

Taggants - New Jersey Packaging's generic taggants work with UV or IR and can be specially supplied for use in high security applications. Assigned group code taggants work with spectroscopic signatures.

Serialization - New Jersey Packaging can provide random serialization, RSS with lot code and expiration date, and fill service with data management and additional functions.

Color Shift - Unique colors are available that can be assigned to individual companies.

Security Printing - Features microtext printed with reactive inks that can be coded to work only with select pens. Up to 20 layer watermarks are also available.

Tamper Evident - Frangible materials that leave behind a signature code on the package. Patterned adhesives are also available.

Substrates - Include magnetic threads that are readable with a unique device, reactive inks that are coded to work only with specific pens, authentication without affecting the message, as well as embedded taggants.

A subsidiary of Menasha Corporation, New Jersey Packaging has the ability to bring single-source excellence to pharmaceutical packaging materials. With more than three decades of printing experience solely for the pharmaceutical industry, the company has become one of the recognized leaders in providing packaging and labeling services to the industry. In addition to anti-counterfeiting solutions, New Jersey Packaging products include inserts and outserts, labels, flexible packaging and folding cartons.

For more information, contact New Jersey Packaging by phone at (973) 808-8000, by fax at (973)808-8010, or by visiting www.newjerseypackaging.com

More from Fluid & Gas Flow Equipment