Anti-Fatigue Mat offers secure, stable footing.
Press Release Summary: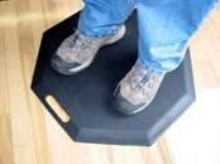 SmartCell STOP-Fatigue ergonomic anti-fatigue mat is manufactured from durable, synthetic rubber. Matrix of hollow cylinders functions like springs and gets softer when compressed, providing optimal level of softness. Suited for standing or kneeling workers, mat has octagonal shape with surface area of 2.7 ft², weighs 5.5 lb, and features 2 handles, making it easily transportable. Static-safe, standard, and grease resistant versions are available.
---
Original Press Release:

SATECH Inc. Rolls out Portable 'STOP-Fatigue' Mat


Chehalis, Wash., - February 22, 2005 - SATECH Inc. a Washington-based technology and products company, today launched a portable, lightweight 'STOP-Fatigue' anti-fatigue mat, a new product from its SmartCells. line of anti-fatigue platforms, runners and mats.

The new STOP-Fatigue mat has a unique octagon shape, identical to a traffic STOP sign and weighs only 5.5 pounds. Occupying a surface area of only 2.7 square feet, it is built with two handles, making it easily transportable and ideally suited for standing or kneeling workers.

Ergonomically optimized to increase worker productivity and reduce fatigue and injury, SmartCells systems are particularly effective for workers who put in long hours on their feet or knees in manufacturing, retail, airport, warehouse, assembly, facilities, government, military and maintenance environments.

"SmartCells is a new generation of anti-fatigue technology that has been specifically engineered to reduce fatigue as well as back and leg pain in standing workers," said Bryce Betteridge, SATECH president. "Research shows that softer is not better when it comes to selecting anti-fatigue matting; there is an optimal level of softness that maximizes the anti-fatigue effect--this is the basis of the SmartCells design."

Manufactured from durable, synthetic rubber, SmartCells technology consists of a matrix of hollow cylinders that function like springs and actually get softer when compressed -- unlike typical foam mats that get harder when compressed. The distinctive cushioning technology offers secure, stable footing and an optimal level of softness.

SmartCells STOP-Fatigue Mat Features:

o Portable with two carrying handles for easy transport

o Weighs just 5.5 pounds

o Surface area is 2.7 square feet

o Includes SmartCells fatigue reducing technology

o Four colors available: black, blue, green and brown

o Three black formulas available: static-safe, standard, grease resistant

Standard black pricing is $39.50; color, static-safe or grease resistant is $44.50

SmartCells anti-fatigue platforms are custom fit to the work environment in counter-to-wall or wall-to-wall configurations. Platforms feature durable one-inch thick pads and a choice of aluminum or molded rubber ramps. Runners are modular and can be easily assembled to any length. Individual mats come in 2x3 and 3x5 foot sizes or the new 22-inch STOP-Fatigue octagon shape. Products are available online at: www.smartcellsmat.com

About SATECH Inc.

SATECH is a Washington-based technology and products company that specializes in the development and marketing of SmartCells. ergonomic solutions for performance enhancement and injury and fatigue prevention. SmartCells technology has broad application in the industrial workplace, health care, and sport surfacing markets. For more information, please call (360) 748-8711 or visit www.satechinc.com

Company Contact

Bryce Betteridge
SATECH, Inc.
(360) 748-8711
bbetteridge@satechinc.com

More from Machinery & Machining Tools