Antenna Positioner provides payload capacity to 70 lb.
Press Release Summary: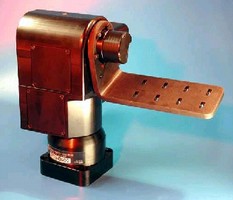 Featuring all-weather design, computer-controlled, pan-tilt Model PTU-D300 supports fixed and mobile antenna and communications laser positioning applications. Built-in dynamic control capabilities include on-the-fly speed and position command changes at over 30 Hz for real-time tracking. Remote control of unit is provided through RS-232 or RS-485 serial interfaces with multiple software options. Pan and tilt speeds range from 0.00643-50°/sec with accuracy of ±0.00643°.
---
Original Press Release:


Directed Perception Pan-Tilt Antenna Positioner Provides Fast, Accurate Control of Lasers and Microwave Antennas




Rugged outdoor unit packs precision, power and speed in small footprint

BURLINGAME, California. September 30, 2005 - Directed Perception, Inc. today announced the availability of its PTU-D300 family of computer controlled pan-tilt units. The PTU-D300 is designed to support a range of fixed and mobile antenna and communications laser positioning requirements for satellite tracking, microwave communications, and other surveillance and communications applications. The PTU-D300 offers a price/performance not previously available in off-the-shelf antenna positioners. The extremely rugged all-in-one design is compact and has flexible mounting options. Built-in dynamic control capabilities include on-the-fly speed and position command changes at over 30Hz supporting a wide range of applications including real-time tracking. A 360-degree continuous-pan option is available with pass-through of Microwave antenna signals. An available software API supports integration with custom applications. Geo-pointing and stabilizations options are available.

Speeds time-to-market for complex communications systems
The integrated design of the PTU-D300 provides a complete turn-key positioning solution for fast, accurate, dynamic, computer-controlled positioning of antenna position through a wide range of motion. Sensor and communications systems designers can save months of product development time by using the PTU-D300 as a complete, drop-in antenna positioning solution. Remote control of the PTU-D300 is provided through RS-232 or RS-485 serial interfaces with multiple software options.

Payloads to 70 Lbs.
The patent-pending mechanical design provides rigid, stable, payload positioning with very good dynamics. Specific performance features include:
-- Payload capacities of 70 Lbs (side mount) and 35 Lbs (top mount)
-- Fully controllable pan and tilt speeds ranging from below 0.00643 °/second to 50 °/second
-- +/- 0.00643° positioning accuracy in both pan and tilt axes
-- 360° continuous pan option

The PTU-D300 includes a fully-integrated controller with digital commands for fine-grained control of speed, acceleration, position limits, and power modes. Unit can be commanded in terms of either position or velocity. The unit allows on-the-fly command changes to support dynamic tracking applications. Both Serial and Ethernet interfaces are available, with other network interfaces on request. Control software interfaces available include a LabView driver and a C source-code API for use with embedded or desktop CPUs.

The PTU-D300 is constructed of anodized machined high-grade aluminum and provides a sleek, integrated package with flexible payload and pan-tilt mounting options. Packaging features include:
-- Rugged all-weather design (IP67) with wide-range operating temperature (-30° to +50° C)
-- 100% duty cycle or 3-5 million cycles
-- Single 9-30VDC power input
-- Single mil-style connector for all signals and power. Pass through of payload signals including Power, Video, and serial control. Options for Microwave signals available.
-- Compact size (11.6" x 5.5" x 9" not including payload bracket)
-- Marinized option available

Designed for easy customization
The PTU-D300 has a number of design features to support rapid customization to meet specific OEM requirements. Customization options include changes in: payload connectors/cabling, mounting brackets, slip-rings, encoders, and network interfaces.

Price and Availability
The PTU-D300 is available now. Pricing is $9500 in Quantity 1 (standard configuration).

About Directed Perception, Inc.
Directed Perception is a leading manufacturer of innovative devices and software for the intelligent control of sensors and sensor processing including video cameras, IR sensors, laser rangers, microwave antennas, thermo-imaging sensors, and more. The Company's products are designed with precision, ruggedness, and low-cost to support demanding applications, such as tracking, in a broad range of OEM and end-user markets. Directed Perception's flagship miniature computer-controlled pan-tilt tracking mount was one of the first of its kind and has been sold to OEMs and end-users world-wide since 1992. The Company's patented products are used in a wide range of industries including Security & Surveillance, Industrial Automation, Robotics, Communications, Military/Aerospace, Law Enforcement, Education, R&D, Webcams, and Teleconferencing/distance learning.

Directed Perception customers include industry-leading companies worldwide in aerospace, defense, security & surveillance, robotics and industrial automation. Directed Perception sells its products direct and through distributors and partners worldwide.

Directed Perception is privately held and headquartered in Burlingame, in Northern California.


Related