Annunciator provides complete alarm management solution.
Press Release Summary: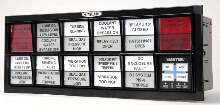 Multifunctional Panalarm Series 90A Annunciator visually displays and timestamps alarms to determine sequence of events and offers serial and Ethernet capabilities that lets users centralize alarms from multiple locations. LEDs provide visual indication of all alarms. Measuring less than 7 in. deep, series can be installed into control panels, system cabinets, and consoles. Users can create any size system up to 13 rows by 13 columns of windows.
---
Original Press Release:
New AMETEK Annunciator Offers Complete Alarm Management Solution

Panalarm Series 90A Incorporates Multiple Functions within Compact Design

ROCHESTER, NY, U.S.A.-With the new Panalarm Series 90A Annunciator from AMETEK Power Instruments, many people will rethink their Alarm Management Strategy. The newly designed Series 90A performs many new functions, allowing operators to consolidate the amount of equipment they require.

In addition to its standard function of visually displaying alarms, the Series 90A timestamps alarms to determine the sequence of events. Its serial and Ethernet capabilities allow operators to centralize alarms from multiple locations to get a 'big picture' view of an entire facility.

The Series 90A provides reliable worry-free operation, making it the perfect choice for the power generation, transmission, distribution, petroleum, petrochemical and other process industries. The annunciator is practically maintenance free, using super-bright, long-life LED's for visual indication of all alarms.

With a depth of less than 7 inches, the compact Series 90A can be easily installed into control panels, system cabinets and consoles. It's ideal for new installations or as a replacement for older systems where panel space is a concern. It features four window sizes in several colors with laser-printed legends that can easily be changed on site. Users can create any size system up to 13 rows by 13 columns of windows.

Adding to its versatility, the Series 90A is easily configured using a proprietary software tool that allows users to access to all features and functions with the click of a mouse. The system is completely upgradeable, and system capacity can be expanded if needed. Installation costs can be reduced by connecting AN-3100D alarms to other equipment with the Modbus and DNP communications using either serial or Ethernet interfaces.

The Series 90A can help determine the root cause of alarms using its time-stamped sequence of events. It identifies the order in which the alarms occur and notes how the control system responds. The time-stamped alarms can be transmitted via Modbus or DNP or through ASCII for printing or viewing.

Low-power white LED's provide the annunciator with reliable and maintenance-free operation. They are brighter and last years longer than standard incandescent bulbs. When one needs replacement, an automatic detector notifies the operator so critical alarms are never missed. The Series 90A also is able to monitor external wiring for ground faults that may cause plant equipment not to operate properly.

The Series 90A is backed by AMETEK's more than 50 years of experience in process control room annunciators and displays. AMETEK has long been recognized as the power and process industry leader with the industry's most comprehensive line of annunciators, event monitors, and graphic displays.

AMETEK Power Instruments is a global leader in power recording, measurement, and control instruments as well as sensor systems for gas turbine engines and industrial/utility boilers and burners. AMETEK, Inc. is a leading manufacturer of electronic instruments and electric motors with annual sales of more than $1 billion.

For more information on the Panalarm Series 90A alarm annunciators and its full-line products for the power and process industries, contact AMETEK Panalarm 1725 Western Drive, West Chicago, IL 60185 Web site: www.ametekpower.com
More from Electrical Equipment & Systems