Annealing Furnace for Steel Wire Coils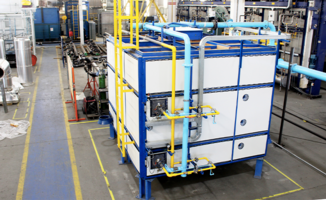 We needed to supply a furnace with the same specifications as one that we had previously sold (in 2013) in order to expand the client's operation and enable it to grow.
The company emphasized that this furnace had to be identical to the existing one, since the idea was to alternate their use in order to create a continuous operation.
Our client is dedicated to the manufacture of wire, wire rod, nails, electro welded mesh, special platform grilles and other steel materials for construction. This company receives the raw material and processes it to produce the required gauge and finish.
Bell furnace installation for continuous operation
We supplied a bell furnace designed for intermittent processes; this has two bases/floors that help increase production.
Thanks to this design, the client can now have a furnace operating at all times without wasting time while receiving materials, which used to happen when it only had one base and limited space.
Insulation featuring our one-piece Jointless system
Refractory base
Combustion system with four latest generation, high-speed convection burners
Stress relief controllers for simple and safe operation
No PLC in place, so it is very easy to operate without needing a technical assistant
Great benefits
Our client saw a wide variety of advantages with our equipment:
Continuous operation
Greater flexibility
Ability to switch between the two furnaces
Ability to conduct maintenance without stopping production
Minimum maintenance requirements
Uniform heating
At Nutec Bickley we are experts in the installation and customization of firing systems for all kinds of industries. Come to us if you are interested in a complete solution or if you need to update your current equipment.
More from Thermal & Heating Equipment